This Poll Shows Just How Far America Has Come on Marijuana Legalization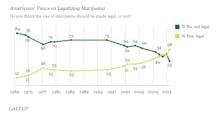 Support for the legalization of marijuana is at an all time high in the United States. In fact, two states have already legalized the recreational use of pot, and more are likely on the way. National legalization is going to come sooner rather than later.
The truly crazy thing though, is just how quickly Americans' opinions on marijuana have evolved.
Take Gallup's poll in October of this year. It found a record high 58% of Americans favor the legalization of marijuana. Less than 40% are opposed to legalization. Take a look at the trends: 
Source: Gallup
58% is a strong majority. Especially when you consider that the first time Gallup included the question of legalization in a survey, only 12% supported it. That's a 46% increase in 44 years.
And even more recently, in 1979, America was still rapt in an anti-marijuana culture. Yes, support for legalization had jumped to 27%, but the federal government was working to eliminate marijuana fields in Mexico, and anti-paraphernalia laws were being enacted across the country.
Today, there is a totally different atmosphere surrounding marijuana legalization. What's the reason for America's high support for legalization? According to people in the industry: young voters.
"As younger folks have come up to vote, age is a significant factor in determining support for cannabis reform," Steve DeAngelo, a founder of one of the largest medical marijuana dispensaries in the country, said.
So with one country in the world already legalizing the recreational use of marijuana, is America on the way to its own? After all, there is a lot of money to be made, and we all know how that drives discourse and policy.
And if trends are any indication, overwhelming support for legalization may very well come in our lifetime. Three decades ago it probably seemed impossible that a majority of Americans would come to favor legalization, and now here we are. And things are only looking up.