'The Grand Budapest Hotel' Has a Celeb-Filled New Trailer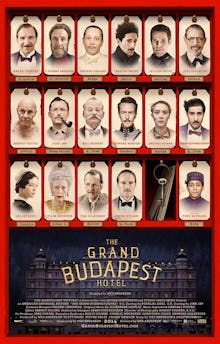 There are many a lots of variables in the Hollywood's hype equation. I'm skeptical that many people would turn out for a movie that was simply advertised as, "The adventures of Gustave H, a legendary concierge at a famous European hotel between the wars, and Zero Moustafa, the lobby boy who becomes his most trusted friend." And yet, that is the plot for The Grand Budapest Hhotel as typed by whatever troglodyte druid tapped it out out for IMDB.
But this is a Wes Anderson film, and if there's one thing his stories have taught us, from 2001's The Royal Tenenbaums to 2012's Moonrise Kingdom, it's that less is more. It's less about what the story is, and more about how it's told. It's less about the size of the story, and more about the nuance of the characters.
And speaking of characters, check out the latest trailer for Anderson's upcoming film:
One of the oldest tropes of the Hollywood hype equation is that stars show up in great movies. Maybe the inner hipster in you doesn't want to fall for it, but then again, how can you resist this trailer's presentation? Jude Law carries the residue of his charisma from a decade ago. Jeff Goldblum is both bespectacled and mustachioed. Harvey Keitel is besmattered with either tattoo's or the doodling of punishment from passing out early. Edward Norton playings a "knight who says ni!" clone. Willem Dafoe and Adrien Brody adding a dash of murder/rapey vibes to complete the ensemble's emotional offerings. And as if you weren't already reserving your opening night ticket on Fandango, they drop the hammer: Bill Effing Murray!
Hollywood thanks you in advance for your cash.