These 5 Fashion Retailers Are Contributing To a Horrifying Practice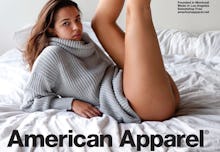 It's holiday season, which, for fashion retailers, means selling leather boots, wool cardigans, fur coats, and animal print bags. While shoppers may be charmed by the craftsmanship of Versace's exotic furs and Givenchy's leopard print bags, the cruel truth behind the production of angora fur coats is another story to tell. 
The fashion industry has done a great job at disguising the misery felt by animals, but sometimes we're exposed to moments of shocking reality when videos, such as the one the distributed by PETA, make the rounds on the internet. Retailers including H&M, ASOS, and Calvin Klein have all removed items made with the fur of angora, a breed of rabbit, from their stores after word disseminated of the brutality involved in acquiring it. According to the Guardian, 4,700 tons of angora fur are produced each year, and China is responsible for 90% of the world's production.
After all the controversy, however, several major retailers continue to sell items with angora fur. Here are five:
1. The Row
Mary-Kate and Ashley Olsen and their high fashion brand, The Row, have been made infamous by PETA for selling fashion items including a fur patchwork bag, priced $16,900. There's even a website dedicated to the twins where you can dress them up in dead animals and watch a video called "Full House of Horrors." Terrifying. 
2. American Apparel
The Los Angeles company known for its stormy relationship with the Advertising Standard Authority (ASA) might be the source of another controversy regarding the sale of angora products. 
If you search "angora sweaters" in the American Apparel catalog, you would see plenty of items up for sale in their online store. Nothing has been reported against American Apparel's supplier of angora-furs, and the company has yet to issue a statement about the controversial video produced by PETA. 
3. Zara
Major fashion retailer Zara continues to spark furious reactions from shoppers after failing to cease selling angora fur clothing. In the company's latest update, Inditex, which owns Zara, released a statement declaring that it needs to check its supplier to decide whether or not Zara should remove all angora-related items.
UPDATE: After consumer pressure, Zara has decided to join its competitors and has halted its orders of angora products, temporarily. The news comes from Inditex official page in this statement: "Inditex will not place any further order with any supplier for products containing angora wool until each relevant facility has been previously inspected again and the findings reviewed, following the Inditex Audit protocol."
4. Bebe
PETA has a long history of protest-laden war against fashion retail chain Bebe. Back in 2007, PETA thought it had reached an agreement with Bebe to discontinue its use of fur. But, according to PETA, "Bebe is misrepresenting itself to the public as a fur-free company" by misleading consumers to believe that Bebe is a fur-free company. Another controversy erupted in 2012 when PETA shared a video claiming dog fur was used on Bebe's clothing. In terms of selling angora-fur items, in this statement, PETA says that Bebe "currently sells rabbit and chinchilla fur in some of its stores," the question remains whether or not Bebe will come forward and give more information to consumers about its angora-fur trading. 
5. Gap
The good news is that Gap has suspended the orders of its angora-related items issuing a statement to consumers via its Facebook page: "We are immediately suspending placement of orders using angora. We are also confirming that our ethical sourcing policies are being followed." However, PETA has issued a letter requesting the company to take further actions and ban all angora clothing, which are still being sold on its racks. Gap Inc. operates six of the biggest apparel brands in the world: Gap, Banana Republic, Old Navy, Piperlime, Athleta, and Intermix.