Pussy Riot is Right — U.S. Athletes Should Boycott the Sochi Olympics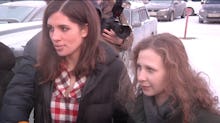 Early Monday morning, two members of punk band Pussy Riot were released from prison under Russia's new amnesty law. Maria Alyokhina and Nadezhda Tolokonnikova were arrested back in 2012 with Yekaterina Samutsevich, for performing a a "punk prayer" critical of Russian President Vladimir Putin in Moscow's largest cathedral.
On a phone call with the New York Times, Alyokhina said she believed their release was a PR stunt orchestrated by the Russian government in anticipation of the upcoming Sochi Olympic Games. She added that she didn't want amnesty if it improves Putin's image. "This is a lie," she said. "We didn't ask for any pardon. I would have sat here until the end of my sentence because I don't need mercy from Putin."
Walking through the streets of Krasnoyarsk, the Siberian city where she was being held, Tolokonnikova echoed Alyokhina's sentiment to a group of reporters, claiming that her amnesty was just for show. She urged European countries to boycott February's Olympic Games.
"I'm calling for the boycott of the Olympic games because the current measures are totally insufficient ... As it stands, European countries can reconsider their participation in the Olympics. As for me, I'm calling for a boycott for honesty."
Because of the nature of their case, Pussy Riot has been gained media attention, and there have been some whispers of boycott. So far, most of the measures taken have been fairly minor. Earlier this month, President Obama announced that America will be sending two openly gay athletes in protest of Russia's brutal anti-"gay propaganda" laws: tennis legend and former U.S. Olympic coach Billie Jean King and hockey player Caitlin Cahow. But is that enough?
Tolokonnikova would probably say no. If the U.S. and other countries are serious about sending Russia a message about LGBT rights, they should boycott the 22nd Winter Olympics. It's no secret that the Olympics are a spectacular PR opportunity for the host nation, and Russia will take advantage of that to the fullest extent by attempting to limit talk of its harsh treatment of the LGBT community. The U.S. has the unique opportunity to take away many of the Games' main athletes, fans, and funding with this boycott, which would send Russia and the international community a strong message of tolerance. 
But others are against the boycott. Mikhail Khodorkovsky, who was also just pardoned by Putin, believes that the upcoming Sochi Olympics are a "celebration of sport" that shouldn't be damaged. Similarly, Russian Olympic Committee chief Alexander Zhukov said, "The Olympic Games are a competition for athletes and everything else is optional. The point is the competition itself and not whether 20 or 30 leaders attend."
There's certainly a point here: the Olympics are a symbol of international sportsmanship and friendly relations, not an open forum for discussion of foreign policy disagreements. It's not really fair to "punish" fans and the hardworking athletes by taking away the games over a dispute that has nothing to do with the competition itself. But what's more important? A set of international competitions held once every four years, or basic human rights? Though Khodorkovsky and Zhukov might see these at two separate issues, they are very much realted, and if policies like those enacted by Russia continue, there may come a time when athletes won't even have the opportunity to make those sacrifices because of who they are rather than what they can do. 
Though sending an openly gay delegate to represent the U.S. at the Olympics may seem like a giant middle finger to Putin and Russia, it is a fairly minor act, and participating in the games anyways is a fairly empty gesture with little lasting effect. But the U.S. and the international community can take these games from being a minor footnote (Openly Gay Delegate Represents U.S.) to a major headline (USA BOYCOTTS OLYMPICS). The U.S. has the ability to make human rights and free speech an international priority, and if we're serious about it, boycotting is the only real option.