Track Santa as He Zooms Around the Globe Tonight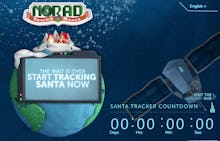 The hardest part about Christmas Eve has always been not knowing exactly when Santa Claus will be making his stop at your house. Waiting up all night, you have no idea where he is, how close he is, or when he'll be dropping down your chimney.
Well, thanks to the folks at NORAD, it's not such a guessing game anymore. They've been tracking Santa since 1955 – they're veritable professionals at keeping tabs on the big man. From their website, Noradsanta.org, you can follow Santa as he zooms around the globe delivering presents and spreading good cheer. The tracker goes live on the evening of the 23rd each year, as countries around the world ramp up for Christmas Eve. NORAD's Santa tracker is a massive operation, receiving millions of views and more than 100,000 phone calls last year.
How did it all start?
Almost 60 years ago, in 1955, a Sears & Roebuck advertisement listed a random telephone number with which children could contact Santa – but this number just happened to be the phone number for CONAD, NORAD's precursor, and lots of kids ending up calling in to Colorado's Air Defense Command Center looking for Santa. So instead of denying it, the commanding officer on duty that night ordered his phone operators to give the children what they wanted, which was the location of Santa Claus as he made his way across the globe. And they did just that. Ever since then, CONAD, which eventually became NORAD, has been tracking Santa for kids all around the world.
What about today?
And now NORAD has brought Santa-tracking into the 21st century. There's an interactive website with games and music – and of course, the live stream of Santa's location.
Source: NORAD
There's even a mobile app you can download to track Santa while you're on the go. And what would a Santa tracker be without a Twitter account? It tweets out where Santa's been spotted:
And even when the big guy decides to take a break for a quick second:
It's pretty high tech stuff:
So really, thanks to the fine work done at NORAD, there's no reason to be in the dark about Santa's whereabouts this Christmas. They do a pretty darn good job following the man on his big night – almost too good. Let's just hope they don't team up with the NSA anytime soon. That's the last thing we need.