The 10 Movies to See Before Awards Season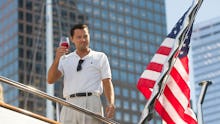 Argue what you will, but bottom line, 2013 was a great year for movies. Filmmakers convincingly took us to outer space, to the antebellum South, and to Clinton's America. Some of this year's many movie awards have already been doled out, but the real month when movie junkies get their fix is January.
The awards show avalanche begins on January 12 with the Golden Globes, quickly snowballing right into the Academy Awards nomination announcement on January 16, and followed by the SAG Awards ceremony on the 18th. The winner's momentum keeps up until the biggest of all movie award days: March 2 — the Oscars. If you're catching up on your pre-awards movie-watching, here are the 10 movies not to miss. With 10 available Best Picture slots at the Academy Awards, this list also serves as a predictions line up. 
1. '12 Years a Slave'
One of the year's most moving and serious films, Steve McQueen's true story about a free African-American man who was kidnapped and sold, tops nearly every year-end best picture list out there. The film is also tied with American Hustle for the most Golden Globe nominations this year. Beautifully told, painfully detailed, and suspenseful in the manner of a true Hollywood picture, this is a film that deserves all the praise it's received. Performances by newcomer Lupita Nyong'o and veteran Chiwetel Ejiofor are sure to get Oscar recognition. 
2. 'Her'
Spike Jonze is known for making movies that beautifully flip logic inside-out; think, Being John Malkovich and Adaptation. With Her, he has done it again this time meditating on human connection and love in the modern age, through a story about a lonely man who falls in love with his operating system. Expect a writing nomination at the Oscars and, if New York Magazine's David Edelstein has anything to say about it, Joaquin Phoenix will be in the Best Actor line up (he's already nominated for a Golden Globe). Edelstein calls Phoenix's performance, "the best performance of 2013 by a cosmic margin."
3. 'Captain Phillips'
One of the most structurally sound movies of the year, Captain Phillips is another real-life tale brought to life — this time by the hands of director Paul Greengrass. The thriller, about a cargo ship captain taken hostage by Somali pirates, is immaculately told and is just the type of film to be heavily nominated, but not so heavily awarded. It's also the type of film that appeals to the masses. Hanks is terrific, naturally, but Somali newcomer Barkhad Abdi is worth seeing the movie for. Both men are nominated for Golden Globes, and both will likely end up on the Oscar list as well. 
4. 'The Butler'
The Butler was a surprise hit this summer, and while it was snubbed by the Golden Globes it is making this list for two reasons: Oprah Winfrey and Forrest Whitaker. Whitaker plays a White House butler who serves a line-up of the 20th century's most important presidents. Winfrey reminds the world that she is a very fine actress in her role as his wife. The acting ensemble was honored by this year's SAG nominations, and it's likely that Winfrey and Whitaker will also be recognized by the Academy. While the film itself is a Best Picture long shot, it's certainly not out of the running. 
5. 'Blue Jasmine'
Like most Woody Allen movies, Blue Jasmine had lovers and haters. The film, which loosely follows the structure of A Streetcar Named Desire, depicts the slow demise of a Manhattan socialite. While response to the film itself might be mixed, response to Cate Blanchett's starring performance was fairly unanimous: she's amazing. Blanchett is a Golden Globe nominee and could very well win the Best Actress Oscar, unless she loses to Meryl Streep in August: Osage County. 
6. 'Gravity'
A simple, cartoonish outer space story, this is a movie that would be unimpressive on an airplane screen, but is awe-inspiring when viewed in a movie theater. Set in space, Gravity is easily the most visually beautiful film of the year, a fact that should get some awards love. Much was made of the fact that Sandra Bullock shot most of her part isolated inside a 9-by-9 box, and a very many people have director Alfonso Cuarón on their Best Director short list, including the Golden Globes. 
7. 'Nebraska'
It's a small film about an old man and his son on a road trip, but it's this year's little engine that could. Directed by Alexander Payne (The Descendants) and starring Bruce Dern, it is Dern who put this movie on the awards season map. Dern is nominated for a Golden Globe and will probably be on the Best Actor list at the Oscars as well. 
8. 'Dallas Buyers Club'
Just give the Oscars to Matthew McConaughey and Jared Leto. Both men give career-defining performances in this true 1980's story about two HIV-positive people who take their treatment into their own hands. In most films, there are very defined emotional moments; in this film, every single moment is gut-wrenching in its own way. This has arguably been the biggest year of McConaughey's career (Mud, Dallas Buyers Club, The Wolf of Wall Street) and it's very possible that awards season will honor that. 
9. 'American Hustle'
Perhaps the most fun movie on this list, the film is worth seeing for Jennifer Lawrence alone. Lawrence took what could very easily have been a stock role and turned it into something memorable. The David O. Russel ensemble con-comedy is his follow up to Silver Linings Playbook, and has benchmark performances from Christian Bale, Amy Adams, Bradley Cooper, and Jeremy Renner. See it for the cast, not for the originality.  
10. 'The Wolf Of Wall Street'
The Academy screening of The Wolf Of Wall Street ended with director Martin Scorsese getting heckled, and if that doesn't make you curious about the film I'm not sure what will. The opulence, decadence, and downright filth of The Wolf Of Wall Street might make it too risque for Academy voters, but the Golden Globes seem to be just fine with it, nominating the film for Best Picture and Leonardo DiCaprio for Best Actor. It's one of the most polarizing movies of the year. That's because it's one of the best.