Justin Bieber is Officially Retiring From Music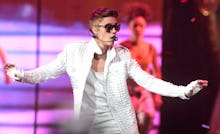 On Christmas Eve, Justin Bieber announced on his Twitter that he is "officially retiring" from music.
The singer had mentioned quitting music last week, but as of Tuesday night, he seemed to make it official.
Or so we thought. Immediately after posting the tweet, Bieber took to Twitter with a few more confusing tweets:
Bieber also cluttered his feed with retweets about his latest movie Believe, which opens Christmas Day.
So is Bieber done for good? Most likely not. But for the short-term, Bieber's manager Scooter Braun told Ryan Seacrest that a hiatus is in the pop star's future.