7 Amazing New Shows From 2013 That You Probably Missed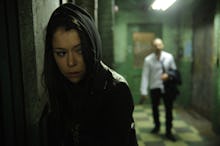 This past year was a landmark one for quality television. Breaking Bad shook the world, but it was closely followed by dozens of remarkable programs across all genres. Some say the modern golden age of television is dead, but if the new crop of shows from 2013 is any indication, the wealth of amazing television is not going away. The number of "good" new shows out there is staggering, and while you likely heard about Orange Is the New Black and House of Cards, not every awesome new series is being buzzed about. Here are eight shows you may have missed in 2013, that are going to be essential viewing in 2014 — and how you can watch them right now.
1. 'Orphan Black'
Streetwise punk Sarah Manning is in the middle of a life-changing conversation in a suburban living room. Housewife Alison Hendrix and graduate biology student Cosima Niehaus have just dropped a bomb of information on her, and for a brief moment you forget that one actress is playing all of the parts. Star Tatiana Maslany is giving one of the most under appreciated performances on modern television. This thrilling sci-fi drama carved out a name for itself on BBC America earlier this year with its breakout star and clever plot mechanics. It's pulpy, exciting action done right and it's rising in notoriety thanks to Maslany's Golden Globe nomination. 
Available on demand through your cable provider, iTunes, Amazon and DVD. For more ways to watch visit BBC America.
2. 'Masters of Sex'
Mad Men is heading into its final two-part season. For TV fans everywhere this may be a tough pill to swallow, but fear not because its heir apparent has arrived. Masters of Sex will give you that period piece throwback feeling while carving out an entirely new space in your quality television digest. Michael Sheen and Lizzy Caplan play real-life 1950s sex researchers William Masters and Virginia Johnson, whose work revolutionized human sexuality. The show is a thoughtful, layered, imaginative and seductive look into a fictionalized version of these real people and those who surrounded them at Washington University. Caplan's Johnson is undeniable and the perfect foil to Sheen's detestable but endlessly intriguing Masters. Not to mention Allison Janney, who is giving the performance of her career as the dean's wife.
Available on Showtime On Demand and Showtime Anytime.
3. 'The Americans'
What if I told you there was a quality cable drama with the spy element of Homeland, the domestic cover up of Breaking Bad and The Sopranos, the character flashbacks of Lost and the period detail of Mad Men? Would you set your DVR right now? Because that show exists and it's called The Americans. Kerri Russell and Matthew Rhys play a pair of deeply embedded Russian spies living in 1980s Washington D.C., posing as a suburban married couple with two kids. Tensions rise when an FBI agent (Noah Emmerich) moves in across the street and begins to investigate. The show is a tense, calculated thriller that applies the family-man-with-a-secret technique well, but also explores the complex forced marriage of these two spies and the phony world they've been forced to live in. Car chases and explosions are set to a beautifully curated soundtrack of '80s hits and Margo Martindale steals scenes as a Russian spy boss. You'll be humming Fleetwood Mac's "Tusk" in no time.
Available on iTunes, Amazon and DVD (Pre-order).
4. 'Rectify'
Sundance Channel made a big splash in original programming this year, turning heads with Top of the Lake, The Returned and Rectify. While all are worth visiting, Rectify deserves special mention for its brand-setting style and breathtaking star performance. The six-episode first season tells the story of Daniel Holden, who after 19 years on death row is released in light of new DNA evidence. His acclimation back into normal life is a slow meditation on modern culture, love, family and religion. Sundance is clearly staking its claim as the place for quiet, contemplative yet striking television. Aden Young is stunning as Holden, as he demonstrates decades of soul and mystery behind the free man's eyes. The show does employ a murder mystery, but wisely makes itself about so much more. 
Available on Sundance's website with a cable subscription, iTunes, Amazon and DVD.
5. 'Nathan for You'
Nathan for You is a bit hard to describe. It's a reality docu-series, but it's a comedy. It's not exactly a sketch show, but there are segmented "bits." Maybe it's best to liken it to a smarter Jackass or a half-hour long version of a Daily Show field piece. Comedian Nathan Fielder puts his mediocre business degree to work by "helping" out real businesses with "genius" ideas. In one episode, he helps a yogurt shop distinguish itself in the marketplace by selling poop-flavored ice cream. In another, he instructs a gas station to sell fuel on the cheap with a rebate. The catch? Customers have to scale a mountain to get their cash back. Nathan made headlines by fabricating a viral video, and himself a hero by defeating The Claw of Shame. The show is irreverent and hilarious, but on this list because of its examination of human nature. It's far more intelligent and unique than anything you'd expect to see on Comedy Central — and bafflingly unknown. 
Available on iTunes and Amazon, episode highlights can also be seen on Comedy Central's website.
6. 'Maron'
After decades working as a stand up and radio host, Marc Maron launched the WTF Podcast and finally achieved the recognition he deserved. His free interview show became a hit among comedy fans and led IFC to wisely pick up a semi-autobiographically half-hour series about the man himself. The show lies somewhere between Louie and Curb Your Enthusiasm, but with more self loathing. The comic's voice can be a polarizing one, but his often frustrated and confused persona is extremely relatable. Famous friends appear both as themselves and in character. In episode six, Danny Trejo (in character) notably brings Marc along for a 12-steps apology tour and the results are humorous and surprisingly moving. IFC has quickly become the place for quirky comedy — and Maron is a perfect fit for its offbeat but clever brand.
Available on demand with a cable subscription, iTunes, and Amazon.
7. 'Brooklyn Nine-Nine'
The only network show on the list, and arguably the most well publicized, Brooklyn Nine-Nine does deserve a special mention. Almost immediately, Brooklyn's ensemble cast seemed to click; characters were well drawn and funny, with supporting performances from Joe LoTruglio, Chelsea Peretti and Terry Crews going a long way. Andy Samberg seemed to be the most problematic part of the cop comedy, but after 11 episodes, they've dialed back his more unlikable traits and found a way to make him fit into the greater cast. And then you have Andre Braugher, whose dead pan performance takes this show to a whole other level. It's easily the best new network comedy of the fall, and still has a lot of room to grow. Like its predecessors Parks and Recreation and The Office, its merits will only grow overtime as we get to know the characters and their foibles. Catch up on the Thanksgiving and Christmas episodes for a primer on the wonders of Brooklyn Nine-Nine.
Available on demand with a cable subscription, Hulu, iTunes and Amazon.