7 Women Who Shook Up Country Music in 2013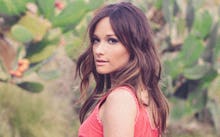 As much as I love getting my shine on during those barefoot blue jean nights, you have to admit that country music is getting a little repetitive. At this point I think every long tan legged woman has hopped up in the back of a truck for a cold beer. Don't get me wrong I love Blake Shelton, Luke Bryan and the rest of the country bros, but 2013's under-appreciated music heroes are the female country artists. From their honest — and sometimes hilarious — lyrics to their charitable acts, these gals are taking the reins of country music and steering things in a new direction. Here are seven women who did amazing things with the genre in 2013. 
1. Kacey Musgraves
This country sensation blew up the charts this year with her album Same Trailer Different Park. She may sound similar to good girl Taylor Swift but she's definitely rougher around the edges. Country music is all about storytelling and Musgraves isn't scared to tell a story with lyrics like: "Jack and Jill went up the hill. Jack burned out on booze and pills. And Mary had a little lamb. Mary just don't give a damn no more. "
2. Kellie Pickler
She can sing, dance and she's a philanthropist. After winning Dancing With the Stars earlier this year, Pickler released an introspective album The Woman I Am. And to top it all off, the country sweetheart spent her Christmas in Afghanistan bringing smiles to soldiers overseas. 
3. Carrie Underwood
She's been popular for years but in 2013 she reached new heights after landing the role as Maria von Trapp in NBC's The Sound of Music. Although 18.5 million viewers tuned in (more than the 1965 original) Underwood was harshly criticized for her performance. Her response? "Plain and simple: Mean people need Jesus." You tell em', Carrie. 
4. Cassadee Pope
When Cassadee Pope performed Miranda Lambert's emotional hit "Over You" on The Voice last year it was a match made in heaven. But after winning on Team Blake we weren't sure which direction the country-pop-rock star would take. Luckily for us, Pope released her country single "Wasting All These Tears" earlier this year and it's just as heartfelt as her "Over You" performance. 
5. Pistol Annies
So we all know Miranda Lambert is a badass country star, but did you know that she's in a girl group called Pistol Annies? The group, made up of Lambert, Ashley Monroe and Angaleena Presley, has been releasing hits since 2011. This twangy trio isn't afraid to get real with lyrics like: "She's on the highest dose of Prozac a woman can take. She likes to pop her pain pills with every little ache." 
6. Miranda Lambert
Successful solo-career, part of an awesome girl group and she's married to the country's reigning hunk Blake Shelton, what can't this girl do? Well for one she can't help but rescue every cute dog she lays eyes on. She's helped hundreds of dogs with her MuttNation Foundation which reportedly raised $400,000 for dog rescue projects in 2013. And when she's not helping her furry friends, she's winning Best Female Vocalist at the 2013 Academy of Country Music Awards.
7. Brandy Clark
She's got the voice of a country angel but Brandy Clark is best known for writing hits for legends like Reba McEntire, LeAnn Rimes and Darius Rucker. And her songwriting didn't go unrecognized in 2013; Clark's gritty lyrics in "Mama's Broken Heart" and "Better Dig Two" led to her nomination for Song of the Year by the Country Music Association.