5 Young Female Authors to Watch in 2014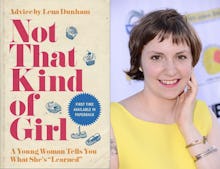 Millennials are undoubtedly creating the literature they want to read. We want to tell our own stories as we attempt to figure out what it means to grow up during our unique moment.
Though they may not all be household names yet, millennial authors continue to produce remarkable work in a variety of genres. Many have already achieved national recognition and established steady careers as writers. From memoirs to essays and poetry, these five millennial authors will give us plenty to read in 2014.
1. Lena Dunham
The creator and star of Girls called her character, Hannah, the voice of our generation, and that may be true; most people our age know of Lena Dunham and her show. She's now offering us more on what it's like to live in the world as a 20-something.
Gawker leaked Dunham's book proposal, which led to a competitive book deal with Random House. Not That Kind of Girl: A Young Woman Tells You What She's Learned covers everything from love and friendship to work and travel. Though an exact release date hasn't been announced, the book should arrive in autumn 2014.
2. Katie Heaney
We all know dating can be great, but it can also be confusing and a little problematic. Heaney, an editor at Buzzfeed, brings us the awkward moments we've all experienced when trying to meet people and establish relationships with Never Have I Ever.
Importantly, throughout anecdotes of her unlucky-in-love 20s, Heaney reveals the value of friendship among the women in her life. Publishers Weekly called the book a "Judy Blume-meets-Carrie Bradshaw memoir." It's due out Jan. 14.
3. Kendra DeColo
Poet Yusef Komunyakaa chose DeColo's book, Thieves in the Afterlife, for the Saturnalia Books Poetry Prize in July 2013, calling it "gutsy and urgent" and "a hardcore reckoning." A recent graduate of the Vanderbilt University MFA program, DeColo has been published in various online magazines, but this is her debut full-length collection of poetry.
The book addresses much of what's collectively on our generation's mind: gender, sexuality, culture, and the mix of pain and joy that comes with being human. Thieves in the Afterlife will represent an important new voice in poetry. It will be released in spring 2014.
4. Annie Downs
As 20-somethings, we've all probably had to leave places we grew to love and get used to life somewhere new. After growing up and going to college in Georgia, Downs moved to Nashville to follow her dreams of becoming a writer. Five years later, she's a dedicated blogger, speaker, and author of two books for teens, Perfectly Unique and Speak Love.
But for her third book, out in 2014, Downs turned to her story as an adult. She describes the book as "for her friends," one that chronicles the process of moving to a new place and learning through it. Her honest, relevant storytelling offers a perspective on life worth reading.
5. Kat Zhang
Publishing her first novel before she had even graduated from Vanderbilt University, Zhang pulled all-nighters dreaming up The Hybrid Chronicles, a trilogy beginning with 2012's What's Left of Me. The young adult books describe a world in which people are born with two souls, and the first was called a "shockingly unique story that redefines what it means to be human."
Fans of dystopian fiction like The Hunger Games will enjoy another set of stories that take us out of our immediate reality. The series' final book, coming after 2013's Once We Were, will be released in 2014.