The 14 Pop Culture Events That Will Define 2014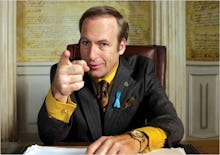 2013 was a good year for pop culture. With Miley Cyrus twerking, the return of Ron Burgundy, and Kimye, so much happened that it's hard to imagine a year that will come close.
But 2014 looks to be just as exciting, if not more so. Here are 14 pop culture moments that already promise to be big moments in our new year.
1. The Tonight Show with Jimmy Fallon.
Jay Leno's final episode (again) as host of the Tonight Show is Feb. 6. Jimmy Fallon will take his place behind the desk on Feb. 17. His departure has Seth Meyers leaving the Weekend Update Desk to take over for Fallon on Feb. 24. 
It's going to be a strange new world for talk shows in 2014, but this line-up promises even better sketches than ever.
2. The Sochi Winter Olympics.
The opening ceremony of the 2014 Winter Olympics will take place in Sochi, Russia on Feb. 7. Expect a number of things to take center stage: Russia's staunch anti-gay policies, Olympic-themed memes, and more Kate McKinnon as Billie Jean King on SNL.
Okay, that's really the only reason to be excited for the Winter Olympics.
3. The 2014 Oscars hosted by ...
Ellen DeGeneres! Having hosted in 2007, this will not be Ellen's first time before the Academy, which looked to find a host as uncontroversial as possible. 
They found a pretty uncontroversial one, but she should still be pretty hilarious.
4. 'Game of Thrones' comes back!
After last season's shocking penultimate episode, many fans are wondering what the show will do after having lost such fan favorites. The answer, for those who have read the books, is simple: kill more characters!
5. 'House of Cards' spins more evil.
One of this year's most-talked about shows was not on television. It was the Netflix original, dark, political thriller House of Cards. Kevin Spacey's first season turn as the Machiavellian Senator Francis Underwood garnered huge acclaim and his role this season [spoiler] as vice-president looks to be even darker and more twisted. We can't wait!
6. 'Looking'
HBO's new series, starring Jonathan Groff, looks at the lives of a group of gay friends in San Francisco (aka the complete opposite of Girls). It will be only the second series to focus solely on gay men, following the much acclaimed — and equally controversial — show Queer as Folk.
7. More Sequels!
The year 2014 will be full of sequels. X-Men: Days of Future Past, The Amazing Spider-Man 2, and Captain America: The Winter Soldier are among the comic book continuations. The Hobbit: There and Back Again will round off Peter Jackson's trilogy, while The Hunger Games: Mockingjay Part 1 will begin the end of that series. In the realm of bringing back beloved comedies, Harry and Lloyd will hop back on the road in Dumb and Dumber To.
8. 'Guardians of the Galaxy'
Guardians of the Galaxy will finally receive the silver screen treatment with Chris Pratt, Vin Diesel, Lee Pace, Glenn Close, and Benecio del Toro starring as part of Marvel's ambitious Phase Two expanded universe series of films. 
9. Jack Bauer is back.
Kiefer Sutherland will reprise his role as counter-terrorist agent Jack Bauer in 24: Live Another Day. The 12-episode series will take place mostly in London, with Bauer facing a new kind of threat: twerking!
Not actually, but the show will update the characters and premise. Bauer is on the run following the events of the series finale. The show is known for its political commentary of current events. It will be interesting to see it portray an American (similar to Edward Snowden) on the run, as well as counter-terrorism in the age of Obama.
10. The 2014 midterm elections and associated memes.
With 2014 comes more election fun and ever more fodder for the greatest of our tools for cultural expression: memes. Democrats are looking to take 17 seats to regain control of the House of Representatives. Republicans are looking to hold onto those seats, increase their control, and take 10 seats in the Senate to control both chambers.
A November poll indicates both that Republicans are more popular than Democrats, and that the Affordable Care Act is fairly unpopular. Since many Democratic senators are retiring, Republicans have a chance. Expect more gifs, tireless campaign ads, and John Boehner continuing to be the world's saddest tangerine. 
11. 'Better Call Saul'
Better Call Saul! Breaking Bad's shady strip mall lawyer is getting his own spin-off prequel series on AMC. That is about all that we know right now, but fans of the series are salivating over the chance to revisit one of the show's most popular characters. Expect the pilot sometime in the fall at the earliest. 
12. 'The Grand Budapest Hotel'
Wes Anderson's newest film takes place in a swanky European hotel with Ralph Fiennes as the hotel's concierge. Expect quirkiness, fast-paced dialogue, and a slew of Anderson regulars like Bill Murray and at least one Owen brother. 
13. 'Into the Woods' becomes a film.
Disney will be bringing Stephen Sondheim's classic musical to the big screen at Christmas. The film will star Merryl Streep, Johnny Depp, Chris Pine, and Anna Kendrick. Disney will also release the much-anticipated retelling of Sleeping Beauty, Maleficient, which will focus on the film's classic villain as portrayed by Angelina Jolie.
14. Bruno Mars at the Super Bowl XLVIII halftime show.
Who even knew Roman numerals went that high.
Super Bowl XLVIII (48) will be held on February 2 with Bruno Mars as the halftime show's headline performer. He's a pretty exciting choice (not a classic rock retread) for the production, but after Beyonce's performance, we can all agree it will not compare, and that he should just give up.