$578,000,000 Worth Of Marijuana Sales Start in Denver Today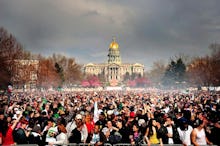 The news: Uruguay isn't the only government hoping legal marijuana will bring in much-needed tax revenue. On Jan. 1, Colorado's marijuana-legalization initiative goes into effect, and pot shops across the state and especially in Denver will be opening their doors to a deluge of customers — the first in the U.S. to buy marijuana for recreational use.
Over the next year, Colorado expects $578.1 million in combined wholesale and retail marijuana sales with a generous $67 million in tax revenue. That money will go a long way towards bolstering school construction, which will be funded by a 15% wholesale tax, and regulatory initiatives, funded by a 10% retail levy.
State licenses for 136 dispensaries, most in Denver, have been mailed out — but many of the shops won't be open by Jan. 1, thanks to regulatory hurdles such as local licensing requirements and attempts by various state officials to undermine the legalization process. Earlier this month, just 12 existing medical marijuana dispensaries were likely to be ready for recreational distribution on the first. New shops will only be able to apply on or after July 1.
The background: Colorado passed a voter initiative legalizing the sale of marijuana for recreational use in November, and consumers will be able to begin purchasing up to 1 ounce of marijuana in a single transaction. (Those from out of state will be able to purchase up to a quarter ounce.) Medium-quality marijuana costs about $196 an ounce in Colorado, and an expected shortage while supply and distribution channels catch up to new demand may rise prices even higher.
The Denver city government fought legalization kicking and screaming, with Mayor Michael Hancock even proposing to make the smell of marijuana illegal:
The new laws require purchasers to be of 21 years of age or older. The regulations surrounding the legalization initiative are confusing, but it appears that most consumption outside of a private residence will remain illegal. Denver International Airport will still fine persons found carrying marijuana $1,000 and refer them to state authorities for criminal charges if they're found transporting drugs through the airport. Driving under the influence of marijuana would carry a harsher penalty than traditional alcohol-induced DUI, and any weed outside of a residence has to be transported in a sealed container.
Weed tourism will be making a big impact as well: State authorities expect as much as 30% of the first year's revenue to come from out-of-staters.
Timothy Vee, who runs a company called High Life Tours, is even offering a "$99 Napa Valley wine tour, but with marijuana."
Toni Fox, who operates the 3D Cannabis Center in Denver, expects her sales to grow from $30,000 a month to over $250,000. 
"We'll have people out the door," Fox says. "It's going to be a very festive atmosphere. We all feel like we're walking on sunshine right now." She'll even have a donut truck for the revelers.
With neighboring states likely long away from considering Colorado-style legalization measures, Colorado can expect booming sales for years to come.