These Puppets Were Allegedly Involved in a Terror Plot in Egypt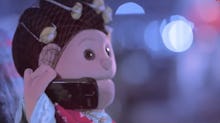 Prosecutors in Egypt are now investigating Vodafone Egypt after a controversial blogger accused the telecommunications giant of inserting coded messages into an advertisement.
Ahmed "Spider," a youth activist and supporter of ousted President Hosni Mubarak, has alleged that the seemingly innocous cactus at the start of the commercial is actually a subtle tribute to the Muslim Brotherhood. The blogger claimed that the cactus was in the shape of the four-fingered salute used by supporters of deposed Islamist president Mohamed Morsi. The sign, called "Rabaah," came into use after an attack killed Morsi supporters in a protest camp next to Rabaa al-Adawiya Mosque in eastern Cairo. 
Egypt's military regime has been engaged in a heavy crackdown on the Muslim Brotherhood, since Morsi's removal in July.
In addition to the suspicious four-branched cactus, Ahmed Spider claimed that the commercial's plot is actually foreshadowing a bombing. Vodafone has denied the accusations, claiming that the commerical only aims to show customers how to reactivate a SIM card.
In the commerical, the characters discuss how to retrieve the SIM card of a deceased relative. The mother in the video asks guards to use sniffer dogs to search for the missing card in a shopping mall. 
According to Spider, this is what the commercial really means: 
"The dog, garage, guard, mall and next to us these are elements tell us that there will be a big mall and an explosion after a dog fails to find the bomb in a car."
Here's the ad. See if you can spot the alleged bomb plot for yourself: