Watch the Trailer For the 'Veronica Mars' Movie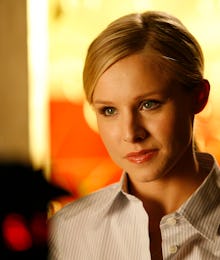 What's the most highly-publicized, successful Kickstarter campaign to date? Weirdly enough, the campaign to fund the movie Veronica Mars, based on a cult TV-show that started airing on UPN — remember UPN? — in 2004 and ran for three years.
And now, the long-awaited trailer is out, showcasing what a project that raised $5.7 million with 91,585 backers can really accomplish.
The crowdsourced funding for the movie marked a huge feat in the industry as the film's creators were under no obligation to investors because the money raised was donated. Unprecedentedly, the movie's director, Rob Thomas, focused solely on what Veronica's fervent fans wanted. After all, they paid for it.
As for the film itself, the movie catches up with Veronica (Kristen Bell) 10 years later (on the show, she was a teenage private investigator). She is now a successful New York City lawyer, settled down with her college boyfriend. But when her bad boy high school boyfriend gets accused of murder, she returns to her hometown for her high school reunion. She reunites with several members of the gang, some of whom went on to more recognizeable fame than when the show premiered, such as Max Greenfield (The New Girl's Schmidt) and Krysten Ritter (Breaking Bad's Jane). As the trailer shows, Veronica must choose between her old life and the new.