11 People Who Were Famous Before Serving in Congress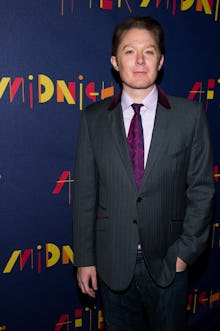 Clay Aiken, a former runner-up to Ruben Studdard on American Idol and LGBT activist, is actively considering a run for the second congressional district in his home state of North Carolina. Source have said that Aiken spoke with the Democratic Congressional Campaign Committee, met with Raleigh political figures, and has been making phone calls gauging support. Aiken is likely hoping that the people of North Carolina will spare him another second place finish. If successful, Aiken would hardly be the only person to have attained prominent status before launching a political career. 
1. Minnesota Sen. Al Franken
Best known for his comedic work on Saturday Night Live, Franken had never been shy about expressing his political opinions before his 312 vote victory in 2008 over Republican Norm Coleman. Before his election Franken hosted his own radio show on the now defunct Air America and wrote numerous books on American politics.
2. Former Nebraska Rep. Tom Osborne
Tom Osborne might have spent six years representing Nebraska's third congressional district, but he might be best known as the long-time head football coach of the Nebraska Cornhuskers. Osborne held the job for 25 years, winning two national championships outright and a share of a third. He would return to Nebraska in 2010 as athletic director until 2013.
3. Former Tennessee Sen. Fred Thompson
Before winning Tennessee's 1994 special senate election, Thomspon had been appearing in movies and television shows for nearly a decade. After refusing to seek reelection in 2002, Thompson would head to Law & Order starring as District Attorney Arthur Branch until leaving the show to enter into the 2008 Republican Presidential Primary. A late entrant into the fray, Thompson's appeal quickly faded upon entering the race.
4. Former California Rep. Sonny Bono
Best known as half of the one-time musical powerhouse Sonny & Cher, Bono had an active 13 year career recording hits like "I Got You Babe" and starring in the very popular Sonny & Cher Show. The couple would eventually split and Bono continued working as an actor before entering political life, first serving as Mayor of Palm Springs, California before being elected to Congress as a Republican, where he held the seat until his tragic death in a skiing accident in 1998.
5. Former New Jersey Sen. Bill Bradley
Before starting what would become an 18-year career in Washington D.C., Bradley he had an impresisve 10 year career as number 24 for the New York Knicks. Bradley was elected to Naismith Basketball Hall of Fame and is one of four Knicks to have his jersey retired, a two-time NBA Champion, and a 1964 Olympic Gold Medal winner. Bradley occupied New Jersey's U.S. senate seat from 1979 to 1997.
6. Former New York Rep. Jack Kemp
Like Bradley, Jack Kemp started out as a professional athlete before entering the political fray. Kemp spent time with the NFL's Pittsburgh Steelers, the Calgary Stampeders of the Canadian Football League, the Los Angeles/San Diego Chargers of the American Football League, before settling in Buffalo with the AFL's Bills. It's in Buffalo where Kemp would win two AFL Championships and have his jersey retired by the franchise. Kemp would hold the Congressional seat in suburban Buffalo for 18 years, and serve in President George H.W. Bush's Administration as housing secretary. He was also Bob Dole's ticketmate in 1996.
7. Former Oklahoma Rep. Steve Largent
Before Steve Largent represented Oklahoma's first congressional district, he was one of the best receivers in NFL history. Largent spent all 14 years of his NFL career with the Seattle Seahawks, and retired holding the NFL records for touchdown receptions (100), receptions (819), and receiving yards (13,089). Largent also held the record for most consecutive games with a catch at 177. His number 80 was retired by the Seahawks. Largent would resign his congressional seat of seven years to focus on running for governor, a race he would lose by less than 7,000 votes.
8. Former Kentucky Sen. Jim Bunning
Jim Bunning pitched in the MLB from 1955 to 1971 for the Detroit Tigers, the Philadelphia Philles (twice), the Pittsburgh Pirates, and Los Angeles Dodgers. Bunning once struck out the side on nine straight picthes, and threw a perfect game on Father's Day in 1964 against the New York Mets — all capping a prolific career that would get him elected to the Baseball Hall of Fame. Bunning would represent Kentucky in both the House and Senate over the course of his career, which spanned from 1987 through 2011. Bunning would have difficulty fundraising for his 2010 reelection campaign and elected to step aside. The seat was eventually won by Rand Paul.
9. New Jersey Rep. John Runyan
John Runyan is a former offensive tackle in the NFL who played most notably for the Philadelphia Eagles. Runyan would play in two Super Bowls, one while a member of the Tennessee Titans and another with Philadelphia. Despite being in one of the safest districts in New Jersey with incredible name recognition, Runyan announced in 2013 that he would not seek reelection.
10. Wisconsin Rep. Sean Duffy
Sean Duffy got his television start on The Real World: Boston in 1997. He also appeared on Road Rules: All Stars and Real World/Road Rules Challenge: Battle of the Seasons. Following his career as a reality television star Duffy would become a district attorney in Wisconsin from 2002 to 2010. In 2010, he sought and won the congressional race for Wisconsin's seventh district.
11. Former Georgia Rep. Ben Jones
Ben Jones held Georgia's fourth congressional district from 1989 to 1993, and would challenge Eric Cantor in Virginia in 2002. Jones famously portrayed a guy named Cooter Davenport on The Dukes of Hazzard. And that's just hilarious.