4 Reasons Jimmy Fallon Will Be the Greatest 'Tonight Show' Host Since Johnny Carson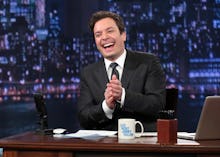 Next month, Jimmy Fallon will take Jay Leno's seat on the Tonight Show, leaving Late Night With Jimmy Fallon in the capable hands of fellow SNL alum, Seth Meyers. In the wake of former Tonight Show hosts like Jack Paar and Johnny Carson, Fallon will debut as the new host on Feb. 17. But he's bringing something unique to mainstream late night television: 20-something culture.
The man who brought us "Idiot Boyfriend" and who does an uncanny Jerry Seinfeld impression deserves the Tonight Show seat because he really resonates with millennials. Here's why:
1. Justin. Timberlake.
Fallon and Justin Timberlake have cemented one of this generation's most recognized comedy bromances on SNL. They crooned their way into our hearts as the Gibb brothers, and let's not forget the time they were Jessica and Nick Lachey.
In the last Christmas episode of SNL, which Fallon hosted with Timberlake as the musical guest, the show earned its highest ratings since January 2012. Even after Fallon left SNL, Timberlake continued the bromance by making repeat appearances on Late Night, and will likely continue this tradition on the Tonight Show.
2. He was in the cast that introduced our generation to 'SNL.'
The college dropout made his mark on SNL with his impressions, musical prowess, and memorable characters like Jarret, a blond dreadlocked college student who posts episodes of his web show, Jarret's Room, on the internet.
He hosted Weekend Update with Tina Fey, brought us the Leather Man, and had a reputation for cracking up during skits. Fallon is a fixture in this generation's SNL memories, which will only work in Fallon's favor as this demographic gets older.
3. He gave us Ben & Jerry's "Late Night Snack."
In 2011, the Vermont ice cream wizards revealed their newest flavor "Late Night Snack" — vanilla bean ice cream with salty caramel swirl and fudge covered potato chip clusters — on the show, in cake form, to honor Late Night's second anniversary.
4. He reunited Jesse & The Rippers (Aunt Becky included).
In July, John Stamos went in full Uncle Jesse mode — stylish mullet and all — to reunite with his fictional band, Jesse & The Rippers, on Late Night. The band of Full House fame performed a medley of classic ditties like "Forever" by the Beach Boys and "Little Sister" by Elvis, as Bob Saget danced along in the audience. But the 90s throwback didn't stop there. Lori Loughlin, who played Aunt Becky, came out at the end of the performance to plant a kiss on Stamos.
Fallon understands our generation pretty well — particularly our affinity for nostalgic throwbacks.