It's Official! 'SNL' Casts First Black Female Comedian in 6 Years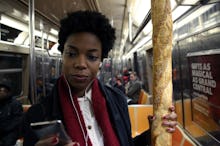 Not long ago, SNL held a quiet casting call for black female comedians. Nearly a month later, they've just announced that Sasheer Zamata, a recent college grad, will be joining the show for its 40th season.
Zamata has had a fairly meteoric rise through the comedy world. She moved to New York in 2009 after graduating from the University of Virginia and began performing with the Upright Citizens Brigade Theater. Now, three years later, she'll make her first appearance on SNL.
Her near-instantaneous success is well-deserved. She has a keen eye for biting and hilarious social commentary of the sort that blogs (this one included) love to repost. She's already appeared on Jezebel, ThinkProgress, and Vulture (again, this one), and is certain to secure even more of a strong web presence for SNL. SNL has been stepping up their digital strategy ever since the first truly viral digital shorts — think "Lazy Sunday" — began reformatting traditional sketch comedy shows for web consumption. Zamata's profile on the blogosphere will not only lay to rest concern over SNL's lack of black female comedians — it will also help the show to reach more viewers online.
For a young comedian, there is no greater honor than a spot on SNL. It's about as close as you come to a set career path for comedy — a stepping stone to a pantheon of greats. On January 18, Zamata will have the chance to make her first mark on the show.