5 Things To Remember About Slain Venezuelan Beauty Queen Mónica Spear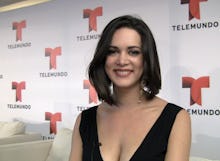 A Venezuelan beauty queen-turned soap opera star and her ex-husband were shot and killed in central Venezuela Monday night. The couple had been stranded roadside after their car broke down, and are believed to be the victims of an attempted robbery or kidnapping.
Mónica Spear, who won the Miss Venezuela crown in 2004, was also a telenovela star. President Nicolás Maduro commented on the incident, saying it reveals wider issues plaguing one of the world's most dangerous countries. "It is very sad to hear of the loss of this young woman ... It is a problem of social violence," he said.
Spear was due to return to her home in Miami later this week after spending time in Venezuela on working holiday. Though Spear's life was tragically cut short, there's much to celebrate in her memory. Here are five things we can remember her by:
1. She won Miss Venezuela in 2004
She was voted "Best Body" by the Venezuelan national press that year.
2. She was a Miss Universe finalist
After winning the national crown, Spear went on to represent Venezuela in Miss Universe 2005. She placed fourth in the competition.
3. She earned a bachelor's in theater
Spear received her bachelor's degree in theater from the University of Central Florida in 2004.
4. She turned her love of acting into a successful career
Spear completed a bachelor's degree in theater from the University of Central Florida. She found success as a soap opera actress, starring in shows like Mi Prima Ciela and La Mujer Perfecta.
5. She gave back
In a statement about Spear's death, President Nicolas Maduro lamented "the loss of a very spiritual young woman" who was also involved in various charities.