People's Choice Awards 2014: The Show Understands One Thing No Other Awards Show Does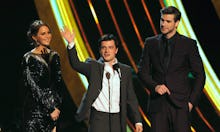 On Wednesday night, CBS will air the 40th anniversary presentation of the People's Choice Awards. Beth Behrs and Kat Dennings of 2 Broke Girls will host; celebs including Jennifer Hudson, Sandra Bullock, and Justin Timberlake will attend; awards based on popular vote will be given out; and millions will likely tune in. But should you really care? In a media landscape over-saturated with Hollywood award shows (especially at this time of year), the People's Choice Awards may tell you what's popular, but they won't tell you what's best.
Thanks to its online voting system, People's Choice Award winners tend to be hot commodities. For example, the public's favorite drama last year was the Hunger Games, and their favorite comedy was Ted. Both were major box office success stories. Katy Perry, Rihanna, and One Direction took home wins for music, and the Big Bang Theory won for best TV comedy.
Winners at the Oscars and Golden Globes, on the other hand, tend to be more artsy. Argo landed the top award in 2013, following on the Artist from the year before.
A win at the People's Choice Awards reflects the public's interest in a pop culture entity. The Hunger Games may have been huge at the box office, but fans and casual People's Choice voters both had to feel passionate enough to cast their ballots. The Big Bang Theory is the highest-rated scripted show on TV, but if people didn't love it, would they have voted for it? On the other hand, Big Bang and the Hunger Games needed to be big enough to reach that voting body, so it's a self-fulfilling prophecy.
The Oscars, Emmys, Tonys, and Grammys, on the other hand, are chosen by a knowledgeable body of industry peers. These boards are trustworthy and informed from experience.
These voting boards are also given screeners and special access to the eligible candidates, making it easier for a smaller but just-as-worthy nominee to break through. These more "legit" awards don't take into account what's popular, but instead honor excellence of the form. Their choices in recent years have become more esoteric and further from the public's favorites — but when major movies and TV are aimed at the lowest common denominator, this is to be expected.
The People's Choice Awards reflect the public's interest. But the best of an art form usually isn't made for everybody, and the Academy-voted award shows can do the public a great service by highlighting real achievements in our culture. At the end of the day, there is something to be said for popularity.