5 States Now Considering Marijuana Legalization — Welcome to the "Green" Revolution?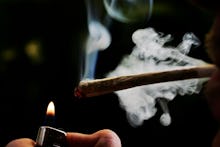 This story has been updated to include Alaska on the list.
The news: After watching Colorado's legalization of recreational marijuana go into effect on January 1, it seems as if other states are now lining up to legalize as well. And once things get rolling (if they haven't already), the United States could find itself in the midst of a very real marijuana revolution.
New York, Tennessee, Florida, Arizona, and Kentucky, along with Washington, D.C., will all very likely see a bill, ballot initiative, or executive order for legalization – be it medical or recreational – in 2014. Check it out:
1. On January 8, New York Governor Andrew Cuomo revealed in his State of the State address plans for a pilot program that would authorize certain hospitals to prescribe marijuana for "serious illnesses." According to a Quinnipiac poll from earlier this year, 70% of New Yorkers support the legalization of medical marijuana.
2. Tennessee State Representative Sherry Jones filed a bill to legalize the prescription and sale of medical marijuana for "only the most severely debilitated people." Though the state legalized medical marijuana in the 1980s, it has since been outlawed for everyone. "It's just simply a matter of being rational and compassionate," Jones said.
3. A petition is being circulated in Florida to get an initiative on the ballot in November that would legalize medical marijuana. It has met resistance from some state officials – the Florida Attorney General filed a brief against the petition. But the A.G.'s criticism that the initiative allows "use for limitless 'other conditions' specified by any physician'" could just as easily be seen as a positive. Indeed, "physicians could authorize marijuana for anything, any time, to anyone, of any age" if the initiative gets on the ballot and passes.
4. Likewise, there's a push in Arizona, which already allows medical marijuana, to legalize the recreational use, too. The movement, dubbed "Safer Arizona," wants to get an initiative on the ballot this fall that would allow recreational sales and any adult to grow up to 12 plants. According to a recent poll, 56% of Arizonans support legalization.
5. Kentucky State Senator Perry Clark stated that he would re-file a bill for the legalization of medical marijuana in 2014. Medial marijuana has Greg Stumbo, Kentucky's Speaker of the House, "leaning toward supporting" legalization. 
6. An initiative for the legalization of recreational marijuana in Washington, D.C. is moving full steam ahead. It will likely get a place on the November ballot, where it could find strong support. Medical marijuana has been legal in D.C. since 2011, and support for recreational legalization is more than 60% by some estimates.  
7. Update: Add Alaska to this list. On Wednesday, legalization supporters in Alaska handed over a petition to legalize the recreational use of weed. With over 45,000 signatures, the petition would push the vote to ballot. If government officials are able to confirm that at least 30,169 of the signatures are valid, the ballot initiative will be eligible for a vote in August. 
Where it stands now: Currently, 20 states and Washington D.C. have legalized and regulated the sale of medical marijuana. And, of course, Colorado and Washington state have legalized the recreational sale of marijuana.
There is a lot of money to be made here. I mean, a lot — billions of dollars, maybe. Everyone knows by now that sales in Colorado broke $1 million on the first day of legalization. With numbers like that, other states might not want to leave money on the table. , Wwhich means momentum is definitely in legalization's favor — and b. By the end of 2014, even more states could join the legalization fight.