Steubenville Rapist Released While Hacker Who Helped Expose Him Faces 10-Year Sentence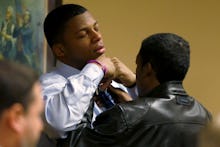 Sometimes justice is not very just. Deric Lostutter, the 26-year-old hacker who went by the online alias, KYAnonymous, is facing charges after an FBI raid on his house in April for what the the agency is claiming is his illegal role in obtaining tweets and Instagram posts related to rape of a 16-year-old girl in Steubenville last year. Meanwhile, one of the two rapists Lostutter helped expose was just released from prison 10 months after being sentenced to one year in prison.
Whether or not Lostutter did any actual hacking is unclear (the social media posts were obtained legally), but the fact that he could be facing more prison time than the rapists themselves is appalling. 
Although he initially denied his involvement, Lostutter eventually admitted to being the masked man in a video that threatened action against the players involved in the girl's rape and the school officials involved in the cover up and that included the heinous tweets and Instagram posts he had obtained. The video was posted to the high school football team's website and helped bring national attention to this story. A highly disturbing cellphone video (WARNING: graphic language) of students joking about the victim was also released by Anonymous, but there's no apparent connection to Lostutter. 
Because of his involvement in the video, Lostutter could spend up to 10 year in prison, far more than what the rapists themselves faced (Ma'Lik Richmond, 16, was sentenced to one year, while Trent Mays, 16, was given two years). What's even worse is that Richmond was awarded an early release for "good behavior." But what's even worse than that is how Richmond came out of this. According to a statement released on behalf of the Richmond family:
"The past sixteen months have been extremely challenging for Ma'Lik and his extended family. At sixteen years old, Ma'Lik and his family endured hardness beyond imagination for any adult yet alone child. He has persevered the hardness and made the most of yet another unfortunate set of circumstances in his life. [...] In conjunction with his release, Ma'Lik, his family, and guardians ask that the media respect their privacy in this matter, as we all need to heal and move on with our lives. [...] We ask for your support and prayers as we move forward, Thank you."
So, it seems like he didn't learn anything ... at all. In response, Robert Fitzsimmons, the attorney for the victim, released a statement that read:
"Although everyone hopes convicted criminals are rehabilitated, it is disheartening that this convicted rapist's press release does not make a single reference to the victim and her family — whom he and his co-defendant scarred for life. One would expect to see the defendant publicly apologize for all the pain he caused rather than make statements about himself. Rape is about victims, not defendants. Obviously, the people writing his press release have yet to learn this important lesson."
After the Richmond family's statement, highly questionable CNN coverage, and these posts on the Steubenville news station's Facebook page, it seems like a lot of people still have a lot to learn about rape. 
Sure, Richmond will have to register as as sex offender every six months for the next 20 years (although his name will not show up in public records because he was a juvenile when convicted), but that's nothing compared to what the victim will have to deal with for the rest of her life. 
Even if Lostutter's acts were illegal, it hard to believe that what he did was so wrong or in any way worse than actually raping and kidnapping a barely conscious 16-year-old girl and literally dragging her from party to party.