Golden Globes Predictions Best Drama: '12 Years a Slave'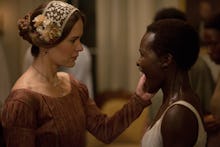 The ultimate, and arguably biggest, award of the night is the Best Picture — Drama award. This year's nominees are: 
12 Years a Slave
To my mind, there is a clear winner here and that's 12 Years a Slave. Captain Phillips is great, but not ground-breaking; Gravity is beautiful and has Best Director written all over it, but it's too simple; Philomena is too small of a film; and Rush was a total wild card. 12 Years a Slave is one of the most affecting, beautiful, and challenging film's in a long time. And, as we now know, the Lupita Nyong'o cast connection makes the film that much stronger. My money is on 12 Years a Slave as the night's rightful and biggest winner.