Golden Globe Predictions 2014: Best Picture Comedy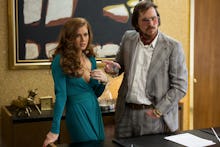 Surprisingly, the Best Picture — Comedy category this year is much, much tighter than Best Picture — Drama. Where in the Drama category it's a pretty safe assumption that the trophy is going to 12 Years a Slave, the Comedy category is a little more of a wildcard. The nominees in the Comedy category are: 
American Hustle
You see? It's tough. By process of elimination my money is on American Hustle. It's a safe choice but a solid choice. I think Her, Inside Llewyn Davis, and Nebraska might all be considered too small and The Wolf Of Wall Street just too controversial. But American Hustle is a crowd pleaser and a safe bet.