Golden Globes 2014: It's Time to Retire the Term "Foreign Film"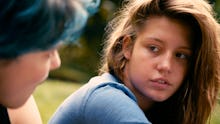 When it comes to film award ceremonies across the world, amongst the awards given for performances, cinematography and "best" film overall, a more colorful category exists: the "foreign film" category. In the U.S., at the Oscars and the Golden Globes, movies created outside of America are dubbed "foreign language films." Relegating these movies to a "foreign" category simply because they aren't in English is a dated way of looking at films made outside of the U.S., especially when British cinema has the privilege of being nominated alongside its American counterparts.
The treatment of a film as "foreign" or as a "foreign language film," is not specifically an American practice. For example, in France, awards such as the Cesar Award for Best Foreign Film and the Prix Léon Moussinac are given to films made outside of France. In 1985, BAFTA began separating foreign films into two categories: Best Foreign Language Film and Best Film not in the English Language. In Spain, the Gaudi Awards get a little more specific, with a category for Best Film in non-Catalan language, Best Film in Catalan language and an award for Best European Film.
This year, Philomena is nominated for Best Film at the Golden Globes, although the actors, director and settings are all English. However Blue Is the Warmest Color, a film in the French language, is nominated for Best Foreign Language Film — even though the film has made dozens of critics' top-10 lists and won the highly selective FIPRESCI Award, the movie will still only be nominated as a foreign language film.
To movie award distributors, language is most often the indicator of "foreign-ness." What this assumption means is that English is still America's official language, despite numerous legislative attempts to make shift that and the fact that one-fifth of the population doesn't even speak English at home in the U.S. Unlike countries such as France, Italy, and Japan, where there is one official language, the term "foreign" in relation to one spoken language inside the U.S. is in reality a tired term in American award ceremony jargon.
But then again, American audiences do also tend to have problems with films in different languages. As evidenced by the treatment of English films like Philomena, The King's Speech, and The Reader, British films are treated treated equally to American films because they're in English, a language arguably more familiar and comfortable to American audiences. Movies in languages other than English also have trouble selling tickets, which contributes to this country's affinity for remaking foreign film classics from the Korean Oldboy to the Swedish Let The Right One In. Films made outside the U.S. are even being re-edited for American audiences, such as the Grandmaster. And even though platforms like Netflix and VOD have given privileged American audiences more access to movies made outside of the U.S., Americans still often stereotype "foreign films" as artsy or too filled with subtleties.
Some may argue that American award ceremonies have no obligation to nominate foreign language films in all categories. Realistically though, this division of "foreign" and "non" is an antiquated practice, one that's looking a little rusty in the modern world.