When Will the Marijuana Bubble Burst?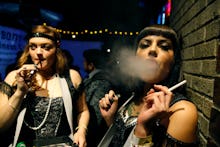 The news: Pot shares are booming as investors seek to find the marijuana company that will become "the next Microsoft."
Bruce Perlowin, a former marijuana smuggler and CEO of Las Vegas-based Hemp Inc., has seen his stock soar 205% (to 8 cents) in the last three days. Robert Frichtel, whose Advanced Cannabis Solutions has soared 144% after posting just $455 in sales last quarter, claims that in some places gains are topping 1,700%.
"The demand for marijuana is insatiable. You have a feeding frenzy for the birth of a new industry," said Perlowin, who filed last month to sell 12 million shares. Marijuana penny stocks are showing some of the biggest gains in the market, with GreenGro Technologies Inc. soaring 1,714% to 80 cents and Tranzbyte Corp. gaining more than 310% in five trading sessions.
High Times is looking to build a $100 million private-equity fund, the HT Growth Fund. It plans to invest $2 million each in a variety of pot-related businesses over the next two eyars.
With legal weed in Colorado and Washington lighting up the market, investors think they've found the next big thing. But the risks might outweight the benefits.
Source: Yahoo! Finance 
The downside: Don't rush to put too much green in green. Experts warn that there might not be that much money in the new industry, and that smart investors should be very wary of crazes. There's also the possibility of pump-and-dump schemes ruining the early market, while Bloomberg warned that "Dude, this pot stock is totally in a bong buggle."
Investor Frank Ingarra says "It's people freaking out, thinking they found the next home run and doing no research. There might be one or two that survive, but having seen crazes like this, people have been burned by them a lot. The average investor should think twice."
For example, Medbox Inc.'s shares soared 85% to something in the area of $73.90 this week, topping $1 billion on rumors that the company was designing marijuana vending machines that would operate on fingerprint ID scanning technology. But Crane Co., the market leader in vending machines, has a $3.9 billion stock market valuation. A smart investor would here note that the market for marijuana vending machines is nowhere near the size of the market for junk food and cans of soda, indicating that Medbox Inc. is seriously overvalued.
The bottom line: Legal marijuana is doubtlessly the future across most of the country, though it's unclear if and when the federal prohibition on weed will end. (It's likely pretty far in the future.) But it remains unclear how much legal marijuana will be worth, exactly. There's lots of money to be made, but there's a lot to lose, too.