Do More People Have iPhones Or Androids? See Who's Winning the Smartphone Wars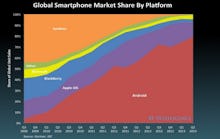 While a sleek new iPhone 5s or 5c might seem like the envy of all your friends, recent market data might show otherwise. Though reports vary, it seems like Apple's smartphone marketshare might be slipping. 
According to the research firm comScore, Apple increased its U.S. marketshare from 40.6% to 41.2% last November and has gained market share in the last 25 months every month except January 2012 and September 2013.
However, the latest data from Kantar Worldpanel indicates that iOS use in the U.K. dropped roughly five points from 36.1% November 2012 to 30.6% November 2013. On the other hand, in that same time period Android use jumped from 51.5% to 55.7% and Windows phone use from 5.1% to 10.8%. The trends are similar in other parts of the EU where iOS share is mostly dropping while Android market share increases. 
Of course, with conflicting data around the world, it's hard to get a definite sense of the market share, but either way, it's clear Apple's no longer dominating the smartphone market. Though sales of the 5s and 5c continue to grow, it's simply not enough to compete with the other platforms. 
One note: only iPhones run iOS while a variety of other devices from brands like LG, Samsung and HTC can run Android, but how does that factor into this? Apple has never been a company satisfied with mediocrity, and it wouldn't be surprising to see Apple doing something big to change these numbers sometime soon.