Will Jennifer Lawrence Win a Golden Globe Tonight?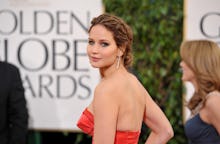 Jennifer Lawrence was already famous when she went into last year's awards season but her awards night behavior (and her wins) catapulted her into a new stratosphere of celebrity. Just think, there was the fall, the dress malfunction, the Jack Nicholson freak out. And there was also one charming, and slightly controversial, quote during her Golden Globes acceptance speech. 
When accepting the award for Best Actress, the first words out of Lawrence's mouth were "I beat Meryl." The line rubbed people the wrong way as many thought it was a catty swipe at legend Streep; Lawrence later explained it to be nothing more than an innocent quote from The First Wives Club.
This year, Lawrence is nominated for Best Supporting Actress but with Lupita Nyong'o also in the category it's very unlikely that she will win. That said, Lawrence will definitely not let us down — hilarious moments will abound.