Absurd: This is the New Helicopter-Transformer-Drone the U.S. Military is Building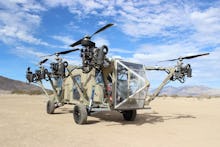 It's official: The U.S. military <3s drones.
Whether it's on the land, in the sea, in the air; a really, really big drone or one that can launch from a submarine; the U.S. military definitely has a thing for drones. So what's next? How about a drone that drives and flies? Sure, why not?
Take a look at the Black Night Transformer, a remote controlled vehicle that has the off-road driving capabilities of a truck and the vertical take off and landing possibilities of a helicopter. The Black Night was built partially out of the military's desire for a "multi-mission medical and casualty evacuation unmanned air vehicle/unmanned ground vehicle," according to Popular Science. 
The Black Night was developed by the El Segundo-based firm Advanced Tactics, which is still currently testing the helicopter's capabilities; it hopes to have all testing completed by the end of February.
Only then will we know for sure of the Black Night has a chance of joining the U.S. military's ever-increasing robo-arsenal.
This would be a vehicle that goes where manned-vehicles can't. 
As Britain's Daily Mail reports, a U.S. government study on evacuations concluded that the use of robots in military missions allows for personnel evacuations in areas and times that manned platforms should not operate in, such as "zero-zero" weather and contaminated environments. Hence the percieved value of this bad boy: