Jennifer Lawrence Wins Golden Globes ... Again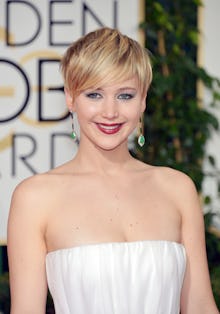 Jennifer Lawrence famously took home the prize last year, and tonight's prize surprisingly went to Lawrence again. The expected winner was Lupita Nyong'o but alas. 
This category was exceptionally impressive this year. The nominees were:
Lupita Nyong'o, 12 Years a Slave
Even if Lawrence wasn't the expected winner, the interwebs (famously obsessed with her) will of course be thrilled. Looking like a big night for American Hustle. 1, 2, 3, here we go!