Golden Globes Hosts 2014: 7 Times Tina Fey and Amy Poehler Nailed It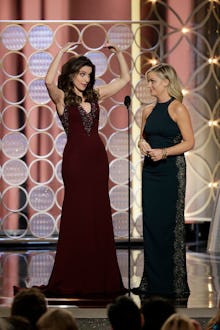 At last night's 71st Annual Golden Globes (A.K.A. Hollywood Meet and Greet), the dynamic duo from the 2013 Golden Globes returned: Amy Poehler and Tina Fey. The two ferociously funny comediennes cut through Hollywood's pandering like a way-funnier Jennifer Lawrence at a press conference.
So, as for highlights (aside from that awesome moment when Jennifer Lawrence photobombed Taylor Swift and Melissa McCarthy pretended to be Matt Damon), here are sevem times that Fey and Poehler kept up the smart gender commentary, made a few stars squirm and kept us all in stitches.
1. "This is our second time hosting because this is Hollywood, so let's just keep doing it until everybody hates it!"
Enter The Amazing Spider-Man 2. Safe to say we'd be willing to give up a few sequels (looking at you, Transformers), but not Poehler and Fey. We will love them forever.
2. "George Clooney, who would rather float away into space and die than spend one more minute with a woman his own age."
Gravity is a film that we should all take very seriously, but this alternate reading is pretty compelling.
3. "Matthew McConaughey did amazing work this year. For his role in 'Dallas Buyers Club,' he lost 45 pounds, or what actresses call 'being in a movie.'"
This may be more about rampant industry sexism than McConaughey, but he still took it well — he's a classy guy.
4. "Please welcome Mr. Golden Globe — my adult son from a previous relationship — Randy."
The "Who's My Daddy?" skit was fantastic. After Kyra Sedgewick and Kevin Bacon introduced their daughter Sosie Bacon who was last night's Miss Golden Globe, Tina Tey introduced her adult son Randy as Mr. Golden Globe (Amy Poehler in a wig). 
This yielded the first of many Jaqueline Bisset jokes: "God, I hate being here! Jaqueline Bisset is backstage bothering me!"
5. "There's a special place in hell for women who don't support other women."
When Amy Poehler won the Golden Globe for best actress in comedy or musical, Fey gave sincere congratulations to her friend, with a little joke on a comment Taylor Swift made in a Vanity Fair. Swift said, allegedly of Fey and Poehler's Globes hosting dutires last year, "There's a special place in hell for women who don't support other women." Fey kept the Swift dig alive saying of Poehler, "There's a special place in hell for you." 
6. That time Amy Poehler made out with Bono.
Before Amy Poehler won there was a preparatory back massage from Bono (that's right, the eternally sexy Bono) and then an impromptu, celebratory makeout session. Again, with Bono.
7. "And now, like a supermodel's vagina, let's all give a warm welcome to Leonardo DiCaprio."
To finish off the night, as Leonardo DiCaprio walked out to present, Fey dropped this diamond at the award winner's feet.
When all is said and done, it's fairly clear that Amy Poehler and Tina Fey won the Golden Globes.