This Was the Best Line Of the Golden Globes, Brought to You By Tina Fey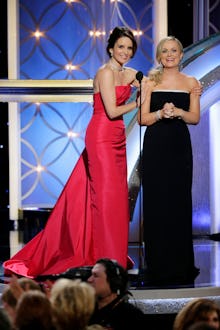 There were many moments to remember at the 2014 Golden Globes, but the bar none most viral moment of the night comes care of Tina Fey — who was hosting the ceremony for the second time along with Amy Poehler. 
While welcoming winner Leonardo DiCaprio to the stage for presenting duties Fey, without batting an eyelash, introduced him to the crowd saying "like a super model's vagina, let's all give a warm welcome to Leonardo DiCaprio." 
The dig was a reference to DiCaprio's famous roster of ex-lady friends which includes Gisele Bundchen, Bar Refaeli, Erin Heatherton ... Victoria's Secret model's all of them.
The line was just one of the women's many not-so-subtle and hilarious nods to the sexism in Tinseltown. Another favorite was when describing the plot of Gravity Fey deadpanned, "It's the story of how George Clooney, who would rather float away into space and die than spend one more minute with a woman his own age."
Poehler and Fey are already locked down as the show's hosts for next year. More one-liners to come.