New Hampshire's House Just Became the First to Vote For Marijuana Legalization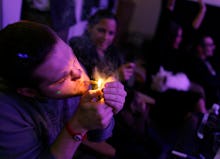 The news: Jokers, smokers, and midnight tokers just won another major legislative victory. The New Hampshire General Assembly has just became the first state legislative chamber in history to vote in favor of marijuana legalization, passing legislation 170-162 in favor of House Bill 482.
The preliminary approval vote, which followed two and a half hours of ferocious debate, would allow adults in New Hampshire to possess up to one ounce of cannabis legally with zero criminal or civil penalties. Citizens of the state would be allowed to grow up to six marijuana plants apiece in a controlled environment, and it would tax the resulting crop at $30 an ounce.
While it's just a preliminary vote and faces final approval by the state House, Senate, and governor, if passed the legislation would be historic: New Hampshire would be the first East Coast state to officially end the war on marijuana and allow its citizens to toke up in peace. While Colorado and Washington state recently legalized marijuana, New Hampshire would be the first state east of the Mississippi to take the leap into full legalization.
It's a major victory for marijuana reform advocates, who are finally being taken seriously on the national stage after decades of languishing policy proposals and unheeded calls to end criminal penalties on marijuana possession.
''House members made history today and they are clearly on the right side of it,'' said the Marijuana Policy Project's Matt Simon.
''If the people lead, the leaders will follow,'' said Drug Policy Alliance deputy executive director Stephen Gutwillig. ''The voters of Colorado and Washington showed there is a way to control marijuana more effectively and now elected officials are following their example.''
There's a catch: And it's a major buzzkill. The legislation isn't likely to pass.
The bill originally escaped death by just two votes after the House voted to kill it by two votes, and then reconsidered. The preliminary vote is just a motion to send the legislation to the state's tax committee, where it faces an unfriendly audience. Even if the House passes the legislation, there's an even unlikelier audience lurking in the state Senate, which rejected a much more limited measure to decriminalize possession of a quarter ounce in 2013.
And then there's Gov. Maggie Hassan, who has promised to veto it.
Hassan thinks the measure would send the wrong message to the state's youth, despite allowing medicinal use of weed in her state.
"We have some challenges in our state when it comes to substance abuse," Hassan told WMUR Radio. "We need to be focusing on that, and I just think it's the wrong message to send to young people."
The bottom line: The vote is a major victory for marijuana reform advocates, even though it's unlikely to pass into law. Most importantly, it's a signal that reform is being taken seriously across the nation.
With Washington, D.C., set to decriminalize personal quantities of marijuana, full legalization in Portland, Maine, and recreational marijuana shops open in Colorado and (soon) Washington state, it's clear where the wind is blowing. The only question is whether New Hampshire will reform its laws now or later, and how far its example will speed up or impede progress on the Eastern side of the country.