10 SpottieOttieDopalicious Life Lessons We Learned From Outkast Songs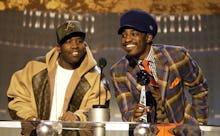 Outkast is coming back big in 2014, with 40 festival dates planned for shows across the country, including at Coachella and New York's Governor's Ball.
But before they went festival-crazy, they helped raise us. "Hey Ya!" defined late-middle school and High School for a lot of us. It's time to review what they've taught us over 20 freaky years.
1. Southern life, best life.
The lush beats, the slow drawls dripping with sweat and swagger — Outkast epitomized southern living in songs like "ATLiens" and "Southernplayalsticadillacmusik." The New York kings — Jay and Nas — were tense and aggressive, while the LA boys — Pac and Dre — were rowdy and contemptuous.
Outkast, meanwhile, declared the relaxed southern lifestyle — "fish and grits and all that pimp shit" — couldn't be beat, and tracks like this make it hard to disagree.
2. To be fresh, one must know it and say it.
The duo's swaggering, killer songs emerged directly from their killer confidence. Everything after that is just icing on the cake. On "So Fresh, So Clean," the pair gets right to the point, doing little more than declaring themselves the "coolest motherfunkers on the planet."
If you say it, it is so.
3. It's good to be crazy every now and again.
The Atlanta duo has injected healthy doses of humor and absurdity into the hip-hop world, embracing catchphrases that didn't make any sense, but were damn catchy: "Ain't no thang but a chicken wing?" "Humble as a mumble in the jungle?"
Most rappers couldn't get away with such nonsense, but coming from the mouth of the great André 3000, they sound like cultural manifestos.
4. Beauty is only skin deep.
Outkast is absolutely guilty of glorifying the female body, but the duo cares about personality, too! Girls, you've been forewarned: If you "got the hottest body but your attitude is potty," you better switch that up.
5. Even gangsters have to grow up.
On their first album, Outkast was all about that "Player's Ball" lifestyle, filled with violence, sex and machismo. But they turn a new leaf on "Return of the G," which mocks the lifestyle they had embraced just a few years earlier. And then, of course, André 3000 grew all the way up on "Int'l Playas Anthem." Being gangsta is more about the atitude than the actions.
6. Hip-hop is a legit art form.
On Aquemini, Outkast's lyricism jumped another level and carried on a rich, American, oral tradition. "Da Art of Storytellin'" is a two-part opus on the 1997 album that practically belongs in a museum for its sheer artistry.
7. You actually can find love at a club.
"Spottieottiedopaliscious," probably the dankest song in the history of all mankind, depicts two sides of a sweaty, booze-soaked night at a southern club. While André 3000 stumbles around drunkenly, witnessing gun violence at its worst, Big Boi tells the story of falling in love on the dancefloor, creating and raising a child, and straightening up his act. It's one of the most sincere verses about the club on record.
8. Politics are an unavoidable part of a gangsta's life.
Outkast made music for the club, but they also made music for the town hall loudspeaker — and sometimes they made music for both.
The fiery "B.O.B." is a perfect example of Outkast turning up and tuning into politics. Between rapid-fire lyricism, chanting choruses and wailing guitars, the chorus lyric "don't even bang unless you plan to hit something" served as a mantra for the battlefield, the White House and the bedroom.
9. Always please your mother-in-law.
Their aim isn't always so grandiose, though: Sometimes they just offer old-fashioned, practical relationship advice. On their 2000 hit "Ms. Jackson," Dré and Big Boi philosophize about the struggles of satisfying your baby mama's mama, with Big Boi ultimately pleading, "let bygones be bygones, you can go on and get the hell on."
10. Ya'll don't want to hear me, just want to dance.
Nuff said.