Harvard is Stepping In to Save Hip Hop, But Does Hip Hop Need Saving?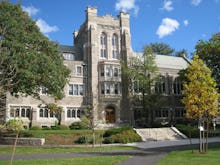 Harvard University is taking hip-hop off the streets and putting it through school.
The higher education monolith is rolling out a new hip-hop fellowship program dedicated to preserving the history of hip-hop culture and promoting its positive influence on society. Rap legend Nas has agreed to be the face of the program, which makes sense because he's always been about the kids. The man has a gift for preaching positivity without seeming too didactic.
The program will endow artists and scholars grants up to $50,000 to research the genre and create new (non-musical) works to spread the message that "education is real power." It's unclear what kinds of works the program will seek to support, but co-director Professor Henry Louis Gates, Jr. says he's interested in backing "producers," or people who will "sign the paychecks," of artists promoting the kind of positive hip-hop that the university wants to see. In short, they want to change the genre.
Encouraging the production of positive hip-hop is a commendable goal, and the Nasir Jones Fellowship Program is definitely a good way for the elite institution to have its messages and philosophies heard by those in the inner city. But even when hip-hop is positive, it's anti-establishment. And Harvard is most definitely the establishment.
Hip-hop is in many respects a contrarian genre. A large part of its mentality involves an intense resistance to influences from the "outside." Take Danny Brown's memorable lines in "Terrorist Threats": "Fuck you, you don't give a fuck about me ... I just want to be free, I ain't tryin' to be nobody's chattle." Or "We Don't Care," the first track off Kanye West's The College Dropout, an album dedicated to slandering higher education: "We never had nothing handed / Took nothing for granted / Took nothing from no man / Man, I'm my own man." ScHoolboy Q, Kendrick Lamar, Jay-Z — every rapper worth their weight in bars has spat a variation on lines like these, describing their suspicions of the "system," and praising their own industriousness.
Hip-hop has thrived on a bottom-up, not top-down, mentality for years. There's a definite possibility that Harvard's hip-hop fellowship may feel stultifying, even though it's well-intentioned. Harvard's co-sign on "positive" hip-hop will attach the wrong sorts of labels on what should be an organic development.
Also, hip-hop is already moving towards a more positive vision on its own, without the support of a multimillion-dollar university program. Kendrick Lamar, one of the biggest breakout artists of the past year is bound to sweep the Grammys with good kid m.A.A.d. city, an album that praises the power of intelligence and responsibility. The forceful words from the interlude on "Real": "Any nigga can kill a man, that don't make you a real nigga. 'Real' is responsibility. 'Real' is taking care of your motherfucking family. 'Real' is God, nigga."
Additionally, two of the most critically-acclaimed and successful mixtapes of last year, Acid Rap by Chance the Rapper and Innanetape by Vic Mensa, preached positivity and peace through and through. Both rappers come out of Chicago, which has one of the most dangerous ghettos in the country. Their messages provide an excellent counterpoint to Chicago's previous breakout stars Chief Keef and Lil Reese, who are serious gangbangers. And this kind of positivity is all the more powerful because it came of its own accord and thrived despite an unwelcoming environment.
Hip-hop can't lose that narrative. When jazz — a previous mostly black, urban art form — moved into the academic space, it lost much of its power. As academies and colleges started to teach jazz in the 1950s, artists and audiences began to drift away, criticizing the genre for the way it became standardized and formal. Musicians left it behind to develop younger and freer genres, and nowadays jazz is consigned to "cocktail" or "elevator music" status. The ferocity and freedom that the genre once represented goes unappreciated. It would be a tragedy if hip-hop went out the same way.
Hip-hop is already heading towards positivity of its own volition, and listeners are responding. If academia's movements become too obtrusive and heavy-handed, hip-hop —  and especially "positive" and "intelligent" hip-hop — may start to be viewed as a "manufactured" or "standardized" sound, rather than being seen as a spontaneous expression with its roots in concrete, not ivory.