This Cop's Dash Cam Video is Going Viral Because of What Happens Next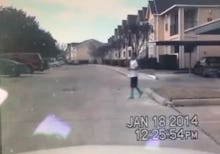 Cops are the worst, right!? Well, not really. Even though a lot of negative stories about police officers tend to make the news, it's good to see something a bit more positive every once in a while. 
This weekend, a video started making the rounds of a police officer's dashboard cam. The Rosenberg, Texas officer drove into an apartment complex and pulled up to a young boy playing with a football alone. The car stops and the boy disappears from the shot only to return to view with the officer not beating him. Nope, the cop pulled over and told the boy to go long.
"I saw he was throwing up a football, and I could tell he was playing by himself," said Sgt. Ariel Soltura, the officer in the video. "He didn't have anybody to play with. He wasn't just waiting for more kids to arrive."
The Rosenberg Police Department posted the video to their Facebook page on Saturday and it quickly spread. The department said Soltura's actions were a great representation of their emphasis on community policing and outreach — trying to be seen as neighbors, not adversaries, especially by the youth. About 33% of the town is under 19 years old. 
"It was cool that the public got to see what police officers do on a daily basis," Soltura said. "If we see a kid kicking the can, they want us to go out there and replace that can with a ball, and hopefully we've made an impact on these kids' futures for the rest of their lives."
Although Rosenberg saw above-average crime rates in the early 2000s (Rosenberg's violent crime rate was almost double the national average in 2004), both violent and property crime rates have dropped well below in the U.S. average in recent years ... possibly thanks to the efforts of Soltura and his fellow officers.