Drake's Hilarious 'SNL' Bar Mitzvah Celebrates His Jewish Roots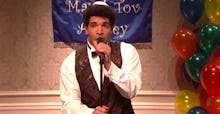 Watch your back, J.T. By all accounts, Drake killed it this Saturday with his appearance as both host and musical guest on SNL. His opening monologue about growing up with a Jewish mother and black father was particularly hilarious.
After a brief but funny introduction in which he apologized to the world for inventing the term "YOLO" and joked about his Degrassi days, the monologue took a turn for the wacky (and wonderful), as it flashbacked to an imagined Bar Mitzvah for Drake set in 1999.
Vanessa Bayer, famous for her Bar Mitzvah Boy bit, is perfect as Drake's mother, and Jay Pharoah as his father. The skit allows for some hilarious moments of culture clash. When Drake announces that he would no longer liked to be addressed as "Aubrey," his given name, and instead would like to be known as "Drake," Bayer quickly interrupts him and he gives his true name: "Drakeob." He then starts rapping with DJ Mordechai Jones about the life of a half-Jewish, half-black rapper. "I celebrate Chanukah and date a Rihannakah ... I eat nova with Hova / knishes with my bitches / a bagel and cream cheesey / with my boy / his name is Weezy."
In real life, Drake is, of course, an African-American Jewish musician, the most famous since Lenny Kravitz and Sammy Davis, Jr. Speaking to Heeb magazine in 2010, Drake talked about not fitting in: "I went to a Jewish school, where nobody understood what it was like to be black and Jewish." Four years later, he's rapping about it on SNL. Started from the bottom, now we're here — indeed.