Disney Couples Are Even More Beautiful When They're Same Sex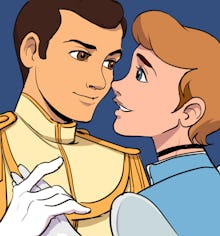 Millennials who grew up watching animated Disney movies have been bombarded with characters that fit neatly into traditional gender roles. The pretty princess and her dashing prince is a formula that Disney has stuck with for decades.
Though researchers say their depiction of gender roles are evolving, as children, these images were embedded into our psyches. But one Tumblr artist has turned the classic fairy tale romance on its head by taking Disney's most famous heroines and illustrating them as males. The project was inspired by a series of "gay Disney" pictorials on Tumblr, which the artist then paired with their respective prince charmings. The result is nine beautiful portraits of same-sex couples, Disney style.
1. Cinderella and Prince Charming
One the American Film Institute's top 10 greatest animated films, this 1950 feature is one of the most beloved Disney movies of all time. But forget Cinderella. What if it was a love story between two Prince Charmings?
2. Pocahontas and John Smith
The 1995 film was criticized for its visual interpretation of Pocahontas, who critics say reproduced stereotypes of ideal exotic beauty according to white males. Would the same be said for a male version of the fictionalized princess?
3. Princess Aurora and Prince Philip
This 1959 animated classic may have implied otherwise, but true love's kiss isn't just for princesses. 
4. Princess Jasmine and Aladdin
Based on the Arabian folktale from One Thousand and One Nights, the 1992 movie Aladdin earned critical acclaim. Upon its release, it had to overcome some tension about Disney's interpretation of Arab people and culture. Despite the inevitable controversy that a movie about a gay Arab couple would rile, it would be a beacon to people who can relate.
5. Ariel and Prince Eric
This love story, based on a Danish fairy tale by Hans Christian Andersen, was well-received in 1989 for its fantastical depiction of undersea romance and musical grandeur. But seriously, where were all the mermen at? 
6. Megara and Hercules
Hercules is once of Disney's more recent animated classics, and Megara's sarcastic damsel in distress was idolized by many a young girl in the '90s. We could use more characters like her, and men shouldn't be deprived of the experience of being saved by a chiseled hero.
7. Esmeralda and Captain Phoebus
The 1996 movie The Hunchback of Notre Dame diverted from the traditional Disney princess formula by featuring Quasimodo, the hunchback bell-ringer of Notre Dame, as the protagonist. The kind gypsy Esmeralda remains one of the most badass Disney heroines, an indepentent female in a cast dominated by male characters. A male gypsy could add another layer to the story as well.
8. Tiana and Prince Naveen
Tiana is one of the most recent Disney heroines, starring in 2009's The Princess and the Frog. Even if Tiana were a man, we don't think Mama Odie would mind marrying him to Prince Naveen.
9. Belle and the Beast
Beauty and the Beast's 1991 theatrical release received critical acclaim for the unorthodox love story between Belle and the Beast. We think it could be a pretty cute story with a guy, too.