9 Images Of the Warzone That Kiev Has Become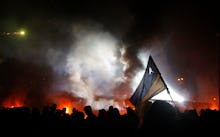 The protests in Kiev that turned violent Sunday and raged throughout the week have their first official death toll, as CNN reports at least four dead from protester clashes with police. Hundreds more have been injured on both sides, with a reported 84 police officers hospitalized.
Martial law went into effect at 4 p.m. local time on Wednesday, closing shops and businesses in the immediate area surrounding the protests.
Ukrainian President Viktor Yanukovych met with three leaders of the opposition on Wednesday, but the talks did not appear fruitful. After meeting for hours, there was no immediate resolution, and Vitali Klitschko, one of the opposition leaders, said that unless Yanukovych continues talks through the end of the week, the protesters "will go on the attack."
The thousands gathered in Independence Square in Kiev are demonstrating against the strict restrictions on protesting enacted by the government last week, and a failed trade deal with Europe, which they say is evidence that the Ukrainian government seeks to align itself closer with Russia than the West.
You can watch a live stream of Maidan (Independence Square) below, along with the astonishing photos coming out that show the battle zone Kiev has become.
1. Live Stream of Independence Square
2. Protester engulfed in black smoke
3. Protesters launch fireworks at police
4. Molotov cocktails
5. Burning barricades
6. Protesters use a sling shot to launch rocks at police
7. Burning tires light up the night
8. Protesters hurl stones
9. Clashes continue through the night