Sing-Along 'Frozen' Is the Best News of the Day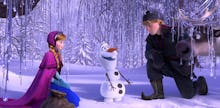 If you had any plans for Jan. 31, cancel them immediately. You now have more important things to do — like singing along to a Disney movie in a theater full of tone-deaf children.
In all seriousness, it's pretty exciting to hear that Disney is screening a sing-along version of Frozen in 1,000 theaters next week. The songs will be subtitled on-screen, and a helpful, bouncing snowflake will follow along with the words. "It's a great opportunity for families to get together and have some fun with these songs," Disney exec Dave Hollis said in a statement.
Families, and 20-somethings who cannot get enough of this movie.
Frozen is still sitting pretty at the fifth spot at the box office after nine weeks in theaters. It's already made over $700 million worldwide, so why not throw some more money at its ever-growing mountain of cash?
This level of success couldn't have happened to a more deserving film. Not only is Frozen the most progressive Disney film in years, it has genuinely stellar music. The Oscar-nominated "Let It Go" is an obvious fan favorite, but the Sami-inspired "Frozen Heart," the cautiously hopeful "For the First Time in Forever," the bittersweet "Do You Want to Build a Snowman?" and the goofy "Love Is an Open Door" are all fantastic as well. Overall, the soundtrack is stronger than anything that Disney has put out in years (except perhaps for The Princess and the Frog, which never got its fair share of love).
It helps that Frozen features some of the best voices on Broadway — The Book of Mormon's Josh Gad, Spring Awakening's Jonathan Groff, Cinderella's Santino Fontana, and of course, the queen herself, Idina Menzel. The songs were also written by Robert Lopez and Kristen Anderson-Lopez, the acclaimed duo behind Broadway hits such as Avenue Q and The Book of Mormon.
It should come as no surprise that a stage version of Frozen is headed to the Great White Way. But since it will take years to see a live production, let's treasure the sing-along version while we can. After all, you certainly won't be allowed to sing along inside a Broadway theater, so get it out of your system now.
If you need to practice your pipes before Jan. 31, watch this awesome 25-language version of "Let It Go" for inspiration: