This Is Easily the Coolest Commercial You'll See Today. Click on the Link and Wait a Second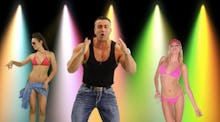 People don't often pay much attention to commercials, but you have to watch this one for at least 30 seconds before you can understand just how hilarious it is:
Old Spice commercials set a high bar for hilarity and virality with the debut of the "Old Spice Guy" in "The Man Your Man Could Smell Like" commercials. But the next round of Old Spice ads is even more epic than the last.
This time, they're hidden all over the Internet in ads that should appeal to the worst users of the web. "Old Spice Guy" Isaiah Mustafa was found hiding in this hilarious ad for a spray tan party:
The ad campaign uses fake banner ads on websites to advertise products that might entice the worst of the web — including cologne with protein in it, neck workout machines and condos inside gyms. If you are unfortunate enough to have been intrigued by such advertising, you'll find yourself on a website for the product that quickly falls away to reveal a video of Mustafa shaking his head in disappointment and staging an "internetervention" by asking people to make the more sensible choice: purchasing Old Spice body spray. 
Craig Allen, the same Wieden + Kennedy creative director that first created "Old Spice Guy," directed the video ads, which contain a total of 20 minutes of video spread out over nine different fake websites. Stinkdigital and Skunk, two digital ad companies, also participated in the project. 
Basically, there is an Old Spice short film on the Internet right now that only you can assemble. Get to work, and get some black leather sheets while you're at it.