10 Grammy Underdogs Who Deserve to Beat Out the Superstars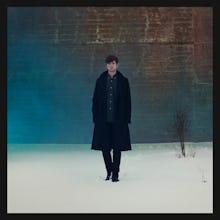 Let's be real, we watch the Grammys for the performances and the Kanye drama — not to see who wins. The awards tend to be quite predictable, reflecting the music industry's moneymakers rather than its fringe talent, and many of the incredibly worthy artists out there never make it to the nominees list. Critics have been known to struggle with these facts, so to keep the Internet quiet, a few lesser-knowns always manage their way through the cracks. They can't all wind up with a dedicated hate tumblr like 2011 winners Arcade Fire, but they can use the publicity to acquire new listeners they very much deserve.
For your listening pleasure, here are 10 of this year's biggest long-shots and the Grammy underdogs you should be rooting for. Check them out today, so you can spend Sunday night laser-focused on Beyoncé, as God intended.
1. Disclosure
Nominated For: Settle - Best Dance/Electronica Album
Disclosure's debut album features an hour of infectious pop that proves catchy and complex can coexist. The whole album deserves repeat listens, but any one of their songs is enough to convince electronica skeptics (if those still exist) that digital compositions can have depth. If these two brothers somehow take the award from likely winner Daft Punk, we'll be hearing a lot more of their music. Even if they don't win, we should be hearing a lot more of it anyway.
2. Ariel Rechsthaid
Nominated For: Record Producer of the Year (Non-Classical)
Pharrell may have a pretty face and a 24-hour music video, but Ariel Rechsthaid has HAIM, Vampire Weekend, Major Lazer and many other big names on his resume. His work shows range, as well as gives us a good idea of what the future of the alt-pop genre will look like. But do we live in a world where a man with a measly 8,000 Twitter followers can beat an A-lister with over 2 million? Tune in! Find out! You bought the whole [love]seat, but you'll only need the edge!
3. Tig Notaro
Nominated For: Live - Best Comedy Album
The Grammys typically reward mastered studio music, so it's double the twist when a barely-rehearsed live performance gets nominated in the comedy genre. Notaro's cancer diagnosis is Live's main plot point, and the routine was written and delivered just a week after she received it. I'm not the only one who thinks Live is both heartfelt and hilarious, and I'm sure I'm not the only one who will wreak havoc if Kathy Griffin takes this category.
4. James Blake
Nominated For: Best New Artist
Lorde was robbed, but James Blake more than atones for that sin. The London singer/songwriter weaves minimal synths and breathy vocals into spiritual escapes, channeling a sound both fresh and classical. One thing you should know: Blake's music is technically dubstep. It's okay, though, because he's pretty much said the genre should be ashamed of itself. That on its own is enough to warrant a gramophone — your move, Macklemore.
5. Alabama Shakes
Nominated For: "Always Alright" - Best Rock Performance
When you share a category with David Bowie and Led Zeppelin, it's truly an honor just to be nominated. But Brittany Howard walks among giants with grace, and her vocals on "Always Alright" are as soulful as ever. The Shakes are starting to seem like a Grammy staple thanks to last year's Best New Artist nomination, but it's still too soon to resent them for their inevitability. Enjoy their jams with your hipster cred intact while you still can, and start with the track that might get them the gold.
6. The National
Nominated For: Trouble Will Find Me - Best Alternative Music Album
Both due to Vampire Weekend's fame and their last album's excellence, the other amazing nominees in this category have been rendered dark horses. All are still well worth a listen (if you like The Beatles, you'll love Tame Impala), but The National's Trouble Will Find Me is a standout, beautifully written and gorgeously performed. Go stare out a window on a rainy day, turn it up, and prepare to get the feels. 
7. Gary Clark, Jr.
Nominated For: "Ain't Messin' Round" - Best Rock Song, "Please Come Home" - Best Traditional R&B Performance
Clark said it himself: "I don't believe in competition/Ain't nobody else like me around." The man has a point — he's the only artist nominated in both Rock and R&B categories, and that alone speaks to his talent. It would be a shame for an artist that can channel both Frankie Valli and Jimi Hendrix to get snubbed just because he's not Mick Jagger.
8. The Civil Wars
Nominated For: "From This Valley" - Best Country Duo
This category is likely to be Dolly Parton duking it out with Taylor Swift (think of the gifs!), but the talent of The Civil Wars is too much to go unnoticed. "From This Valley" is the type of bluegrass that makes everyone want to admit they like country, and the duo's eponymous album features more songs of the same caliber. Besides, don't we all just want to root against T. Swift sometimes?
9. Chrisette Michele
Nominated For: Better - Best R&B Album
Though famous for her cameos (from Jay-Z to Nas), Chrisette Michele's solo work brings a contemporary edge to the soul of the 60s. She took home a Grammy in 2009 for her song "Be OK," and her latest LP shows why top hip-hop stars tend to seek her out. John Legend will probably take this category, but we can always blame it on Michele's "Rich Hipster" hitting too close to home. Either way, Motown's still got it.
10. Brian Eno
Nominated For: Lux - Best New Age Album
Ok, so Brian Eno's not an underdog. OK, so he's a principal figure in the genre of ambient music who is always met with wide critical acclaim. Whatever. The New Age category happens to be another story, oft overlooked for being difficult to define and wrought with inaccessible world music. Luckily, Lux is an easy pill to swallow, a peaceful immersion composed by an industry pioneer. Originally produced to serve as a soundtrack to an installation, the music will thrive just the same when you make it your own.