This Startup is Crowdfunding an HIV Vaccine and Plans to Give It Away for Free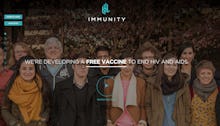 While we're past the era of ignorant '80s-style AIDS hysteria, AIDS remains an epidemic killing nearly 5,000 people a day. Now, a team of Stanford, Harvard and MIT scientists and entrepreneurs are getting attention for their innovative approach to treating HIV.
The Immunity Project, a nonprofit organization, has developed a synthetic HIV vaccine. 
The project announced their crowdfunding campaign to finance the final iteration of a long-term experiment using human blood. The campaign has raised nearly $153,000 of their $482,000 goal. The project will ultimately need to raise $25 million to fund the Phase I trials. If they are successful, the project will "give our vaccine away for free." 
Here's how it works: The project's synthetic HIV vaccine is designed to turn everyone who receives it into an HIV controller. Only one out of 300 people living with HIV are controllers, who do not contract AIDS from the virus as their immune systems can target certain biological markers on the HIV virus, thus forcing it into a dormant state. People who are not HIV controllers don't have this effective targeting capability. The vaccine aims to give everyone the same immunity to the disease by adopting the unique targeting capability inherent to controllers.
For over 35 million people currently living with HIV, the project is a beacon of hope. In a highly political research landscape, the project forewent government and foundation grants to crowdfund and retrieve seed money. Earlier this month, the project was picked up by Y Combinator, which provides seed money, advice and connections to startup companies. If the project reaches its goals, people will have access to the free HIV vaccine, which may prevent AIDS.