What Time Are the Grammys? And Other Important Questions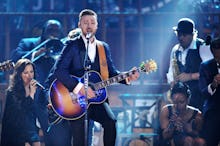 When are the Grammys? Your simple answer: This Sunday, January 26 at 8 p.m.
While the 56th Grammy Awards will have an early start, the official telecast on CBS won't start until the evening. Beginning at noon EST, the Grammys website will live stream the pre-telecast ceremony, where the smaller awards will be given out. After the red carpet arrivals, the official telecast will begin at 8 p.m. EST. If you're tuning in for the whole event your night will end around 11 p.m. 
Prepare yourself by checking out the full list of Grammys 2014 Nominees and listening to the 10 Grammy Underdogs Who Deserve to Beat Out the Superstars.