Grammy Performances 2014: What to Expect From Lorde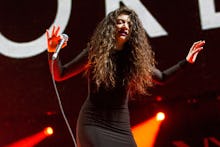 Lorde, the 17-year-old singing sensation from New Zealand, will be attending the Grammys for the first time this Sunday, but she's already nominated for four of the biggest awards of the night: Record of the Year, Song of the Year, Best Pop Solo Performance and Best Pop Vocal Album.
At the ceremony, Lorde will also be taking to the stage to perform. She already sang her smash hit "Royals" at the Grammy Nomination Concert, so there's a good chance she might perform her follow-up single "Team" instead.
Whatever she decides to perform, we know she'll rock it. In the meantime, check out this adorable video of Lorde being interviewed after receiving her nominations. "It's like the most mental thing that's ever happened to me in my entire life," she says. Aw.
Don't know much about Lorde? Get up to speed: The 16-Year-Old Pop Prodigy Who's Sick of Rappers Talking About Money.
And be sure to check back with us tonight - we'll have all the winners, performances and crazy moments on our live blog.