Grammys 2014: Winners, Performances, Video and LIVE Updates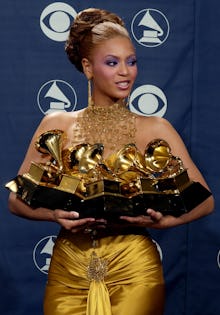 We may be in the middle of Oscar season, but it's time to take a break from the movie stars to hang with their far stranger cousins, America's musicians.
The Grammys are this Sunday night, and as always, the awards will be an excuse for the biggest musical stars on Earth to get together to party, pat each other on the back, and do some of the weirdest and coolest musical combinations of all time. PolicyMic is here to guide you through all the glitz, glamour, Miley Cyrus-ness, and Cee Lo-dressed-as-a-chicken-ness of the evening.
It'll be an amazing concert, too. The list of people who are scheduled to perform at the ceremony is incredible. The reigning royals, Beyoncé and Jay-Z (who leads the night with nine nominations), are expected to perform the hit "Drunk In Love" for the first time (Beyoncé's surprise album was released too late to qualify for this year's ceremony). Half of The Beatles will be rocking out onstage (even though they were largely ignored by the Grammys in their heyday). And some awesome performance pairings are expected. Look out for Lamar and Imagine Dragons, Sara Bareilles and Carole King, Pharrell Williams and Stevie Wonder, and the massive Daft Punk set with Chris Caswell, Nathan East, Paul Jackson Jr. and Omar Hakim.
The Grammys will kick off on Sunday night at 8PM EST on CBS. We'll have all the latest updates on the out-of-this-world fashion and performances that are sure to define a great year in music.
Prepare yourself by checking out the full list of Grammys 2014 Nominees and listening to the 10 Grammy Underdogs Who Deserve to Beat Out the Superstars.