Pharrell's Hat is Louder Than Katy Perry's Voice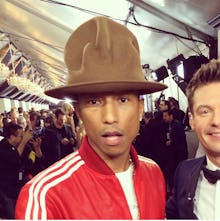 In a year when he produced "Blurred Lines" by Robin Thicke, "Get Lucky" by Daft Punk, "Get Like Me" by Nelly, and "BBC" by Jay-Z, it seems Pharrell's most important contribution to music is the hat he wore to the Grammys.
Image Credit: Twitter
This could be a reflection of the sad state of popular music, but, really, it seems pretty justified. It's a really weird hat. Within minutes of its appearance at the Grammys, it had its own Twitter and was one of the most tweeted-about occurrences of the night. Here it is again looking really fantastic:
Image Credit: Twitter
Read more here.