6 Incredible Show-Stopping Performances From the 2014 Grammys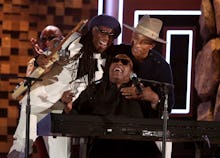 The Grammys are often ridiculed for being out-of-touch and overly long. And while last night's show did run nearly four hours long, it was full of pleasant surprises, intriguing collaborations and flat-out incredible performances. Here are the best ones of the night:
1. "Drunk in Love" by Beyonce & Jay-Z
It might seem a little ridiculous to start the show with one of the most powerful couples in the world, but these are the Grammys after all. Queen Bey set the night's tone by bringing down the house in the broadcast's first fleeting seconds. The couple's tender embrace at the end of the song was essentially life-affirming and moved us that much closer to world peace.
2. "Try" by Pink
Another year, another performance that features Pink soaring through the air. Pink might have the most powerful body in music today, and she showed off her incredible strength and grace both in the air and on the ground during the ballad "Try." 
3. "m.A.A.d City/Radioactive" by Kendrick Lamar & Imagine Dragons
The censors started going crazy about the same time as everyone watching at home did. Lamar and Imagine Dragons may not have much in common, but they absolutely wrecked this mash-up, fueled by a haze of white smoke, pounding drums and furious headbanging. There probably isn't an album in the works, but it was sure fun while it lasted.
4. "Get Lucky" by Daft Punk, Pharrell Williams, Nile Rodgers & Stevie Wonder
Stevie Wonder can bring Carnegie Hall or the White House to a standing ovation by himself, yet he was just another sideman on this incredible rendition of the Record of the Year.
This funky bunch of musicians dug into "Get Lucky" before ripping through snippets of Chic's "Le Freak," Wonder's "Another Star" and Daft Punk's "Harder, Better, Faster, Stronger," catching a groove that transcended genres, countries and musical eras.
5. "Brave" by Carole King & Sara Bareilles
Even a staunch Bareilles-hater like me couldn't help but enjoy this adorable performance, which had the air of a loving mother-and-daughter duet in a family living room. During a night dominated by showmanship, this stripped-down song felt entirely natural.
6. "Same Love" by Macklemore, Queen Latifah & Madonna
The Queen of Pop emerging to duet with Mary Lambert as 34 couples say their vows under a majestic stain glass backdrop? Please, don't mind the entire nation as it bursts into tears.