Macklemore's Wins Prove the Grammys Don't Care About Real Rap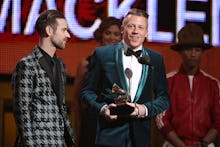 Seattle pop rap duo Macklemore and Ryan Lewis cleaned up last night at the Grammys, sweeping three of the four rap awards and taking home Best New Artist for their work on The Heist. Their victory did not come as much of a surprise, but it was disappointing to see it beat out much more artistic, complex albums like Kendrick Lamar's good kid m.A.A.d. city for Rap Album of the Year. Yet its success perfectly encapsulates what happened to music in 2013.
The attention the album received reveals a lot about what today's American audiences look for in music. Many of The Heist's qualities are common in popular music — it's fun, soulful and catchy — but Macklemore's success showcases a key component of the biggest hits of the year: pop music is becoming more overtly socially conscious. Sadly, it's getting more performative in that social consciousness, too. This means that rap, historically a very politically engaged genre, is becoming melodramatic and shallow in its political engagement.
Macklemore and Lorde, the other breakout star of the night, embedded intelligent, social critique within their pop hits, and that made people feel good about liking them. Macklemore's pro-gay rights ballad, "Same Love," became the centerpiece of Grammy night. The song critiques the conservative belief that being gay can be "cured" with religion. It points out the detrimental effects of using "faggot" to stand in for the word "idiot." Grammy organizers positioned the song to be the last major performance, and in the middle of it, Queen Latifah married 34 couples — some gay, some straight — who exchanged rings along the aisles in full wedding attire.
But just as pop music's social consciousness is becoming increasingly performed rather than felt, so too was this performance flawed. It was one of those deliberately crafted "beautiful" TV moments where the audience can see all the strings, but has to applaud because the "APPLAUSE" sign is on.
Those 34 couples became stage props in the most absurd publicity stunting in the history of the Grammys. The performance lacked all the emotional subtly and storytelling mastery apparent in the track's music video and the lyrics themselves. Instead, it substituted these elements with show biz cheese. How was that performance supposed to support the cause? I can imagine no skeptical homophobe saying: "Yes, gay marriage should be legalized because I want to see more people mass married by pop musicians." That's because even the Grammys knows that, increasingly, people want to see their politics in their rap songs, and that they care less about genuine artistry.
Either way, this is what audiences seem to want from music. They want hip-hop clean and poppy with smooth-tongued argumentative elegance. They want hopeful tracks like "Same Love" and swanky, light and playfully critical numbers like "Thrift Shop." This style won over albums that offered transcendent, visceral and artistic expressions, like Kendrick Lamar's good kid m.A.A.d. city, which is a more proper rap album when compared with The Heist, which is, at its core, a pop album. The Grammys seem to want to pretend that isn't the case.
Macklemore also hoped to see a win for good kid m.A.A.d. city. In an interview with the Source a few weeks before Grammy night, Macklemore discussed who should win Best Rap Album: "In terms of [that category], I think it should go to Kendrick ... I understand why Hip-Hop would feel like Kendrick got robbed [if he didn't win] ... I am a huge supporter of what Kendrick does. And because of that, I would love to win in a different category. We obviously had massive success on commercial radio, and I think that, in ways, The Heist was a bigger album, but Kendrick has a better rap album." 
The academy should have listened to the man, because by picking him over Kendrick Lamar, they completely shut him out of the core hip-hop community. But Macklemore is what the academy (and by extension the public) want rap to be. Rap should be pop — socially conscious, dancey, talky pop­­ — and as a result of his success, there will be plenty more to come.