Watch Macklemore's Amazing Grammys Performance That Made Gay Rights History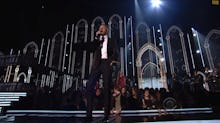 The 2014 Grammy Awards show was filled with fantastic performances, but one song in particular stood out. On a night when Macklemore and Ryan Lewis won more awards than could reasonably be hoped for first time nominees, they completely justified the praise with a stirring performance of their anthem, "Same Love." Mary Lambert, Trombone Shorty and Madonna joined the two for their performance, while Queen Latifah officiated the marriage of 34 gay and straight couples, perfectly delivering on the themes of the songs.
During the song, Queen Latifah presided over the marriages of all these couples simultaneously, making a bold and much needed statement for equal rights on behalf of the music industry. They wedded in the audience while Macklemore performed onstage.
Already, the performance is widely-noted. Ironically, Daft Punk was not involved in the performance that truly gave life back to music, but the roar from the crowd showed solidarity in support of LGBT rights. It was a stirring success because, regardless of a viewer's opinion on gay marriage, it was impossible not to be moved by this beautiful show.
Though it was clearly planned to make people talk about the Grammys, it was an amazingly well-executed idea. More or less, the only bad part about the performance is that there wasn't room for Trombone Shorty to showcase his skills. Too bad because that guy will melt your face off with some trumpet (or trombone).
That grievance aside, there couldn't have been a better way to celebrate what love and marriage are really about. This will go down in music history as a triumph of equal rights.
And good news for everyone: Macklemore and Ryan Lewis might be back in the studio this year.