Mayor of Sochi: My City Is 100% Gay-Free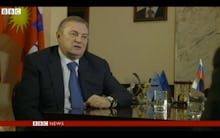 As the world prepares for the opening ceremony of the 2014 Winter Olympics, the mayor of Sochi, Anatoly Pakhomov, has made a shocking and bizarre remark leading up to the winter games. When asked by BBC reporter John Sweeney if gay people would be welcome at the Sochi Olympics, the mayor responded, "We don't have them in our town."
Image Credit: Flickr
This assertion, according to opposition leader Boris Nemtsov, is laughable. There are several gay bars in Sochi, one of which Sweeney visited the night before his interview with the mayor. 
"Our hospitality will be extended to everyone who respects the laws of the Russian Federation and who doesn't impose their habits and their will on others. But yes, everyone is welcome," Pakhomov said.
This is the first time the Russian Federation is hosting the Olympics since the breakup of the USSR, which hosted the 1980 Summer Olympics in Moscow.
Last week, President Vladimir Putin said homosexuals are welcome in Sochi but warned them against not to spreading what he called "gay propaganda." Last June, the government passed a controversial law banning the promotion of "non-traditional" sexuality to minors. Critics say the law's loose wording, which levies fines for providing information about homosexuality to minors, and free interpretation by authorities effectively make any kind of public gay rights event in the country impossible. 
Image Credit: Flickr
The first anti-gay measures in Russia date back to the 18th century, and have since been implemented by its most authoritarian leaders, including Peter the Great, Nicholas I and Joseph Stalin, though attitudes toward gay and lesbian relationships were relatively tolerant in Russia's early history.
Putin is continuing the tradition of repression, pushing back almost a decade of progress for the gay community in the '90s, when homosexuality was decriminalized and general attitudes toward the gay community had been improving. 
Now the Mayor of Sochi is proving once again that the attitudes of some Russian politicians are painfully ignorant, as if we didn't know that already. Hopefully, the backlash will help show them their views are in desparate need of a dose of 21st century reality.